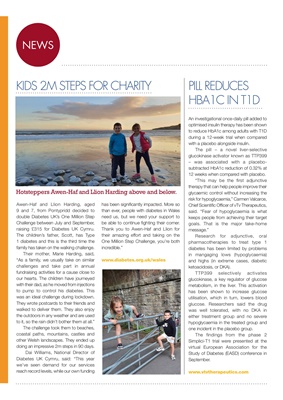 NEWS
Awen-Haf and Llion Harding, aged
9 and 7, from Pontypridd decided to
double Diabetes UK's One Million Step
Challenge between July and September,
raising £315 for Diabetes UK Cymru.
The children's father, Scott, has Type
1 diabetes and this is the third time the
family has taken on the walking challenge.
Their mother, Marie Harding, said,
"As a family, we usually take on similar
challenges and take part in annual
fundraising activities for a cause close to
our hearts. The children have journeyed
with their dad, as he moved from injections
to pump to control his diabetes. This
was an ideal challenge during lockdown.
They wrote postcards to their friends and
walked to deliver them. They also enjoy
the outdoors in any weather and are used
to it, so the rain didn't bother them at all."
The challenge took them to beaches,
coastal paths, mountains, castles and
other Welsh landscapes. They ended up
doing an impressive 2m steps in 90 days.
Dai Williams, National Director of
Diabetes UK Cymru, said: "This year
we've seen demand for our services
reach record levels, while our own funding
KIDS 2M STEPS FOR CHARITY
has been significantly impacted. More so
than ever, people with diabetes in Wales
need us, but we need your support to
be able to continue fighting their corner.
Thank you to Awen-Haf and Llion for
their amazing effort and taking on the
One Million Step Challenge, you're both
incredible."
PILL REDUCES
HBA1C IN T1D
An investigational once-daily pill added to
optimised insulin therapy has been shown
to reduce HbA1c among adults with T1D
during a 12-week trial when compared
with a placebo alongside insulin.
The pill - a novel liver-selective
glucokinase activator known as TTP399
- was associated with a placebosubtracted HbA1c reduction
of 0.32% at
12 weeks when compared with placebo.
"This may be the first adjunctive
therapy that can help people improve their
glycaemic control without increasing the
risk for hypoglycaemia," Carmen Valcarce,
Chief Scientific Officer of vTv Therapeutics,
said. "Fear of hypoglycaemia is what
keeps people from achieving their target
goals. That is the major take-home
message."
Research for adjunctive, oral
pharmacotherapies to treat type 1
diabetes has been limited by problems
in mangaging lows (hypoglycaemia)
and highs (in extreme cases, diabetic
ketoacidosis, or DKA).
TTP399 selectively activates
glucokinase, a key regulator of glucose
metabolism, in the liver. This activation
has been shown to increase glucose
utilisation, which in turn, lowers blood
glucose. Researchers said the drug
was well tolerated, with no DKA in
either treatment group and no severe
hypoglycaemia in the treated group and
one incident in the placebo group.
The findings from the phase 2
Simplici-T1 trial were presented at the
virtual European Association for the
Study of Diabetes (EASD) conference in
September.
Hotsteppers Awen-Haf and Llion Harding above and below.