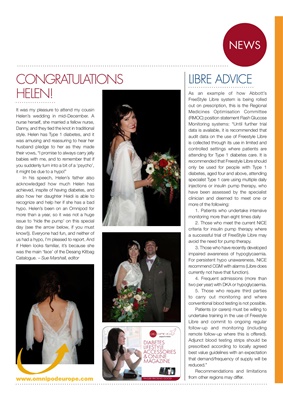 NEWS
ELI LILLY TEAMS
UP WITH
DEXCOM
CONGRATULATIONS!
It was my pleasure to attend my cousin
Helen's wedding in mid-December. A
nurse herself, she married a fellow nurse,
Danny, and they tied the knot in traditional
styl. Helen has Type 1 diabetes, and it
was amusing and reassuring to hear her
husband pledge to her as they made
their vows, "I promise to always carry jelly
babies with me, and to remember that if
you suddenly turn into a psycho it might
be due to a hypo."
In his speech, Helen's father also
acknowledged how much Helen has
achieved, inspite of having diabetes, and
also how her daughter Heidi is able to
recognize and help her if she has a bad
hypo. Helen's been on an Omnipod for
more than a year, so it was not a huge
issue to 'hide the pump' on this special
day. Everyone had fun, and neither of us
had a hypo, I'm pleased to report. And
if Helen looks familiar, it's because she
was the main 'face' of the Desang Kitbag
Catalogue. - Sue Marshall
ISSUE 30
MAGAZINE
DESANG
PLUS • New Products • Groovy giveaways • News (for T1 and T2)
WE'RE NO
ANGELS
But business as usual is best for
diabetics at Christmas
MAKING
CARBS COUNT:
CHESTNUTS ROASTING
ON OPEN FIRES
Our magazine is free!
Sign up here! email address