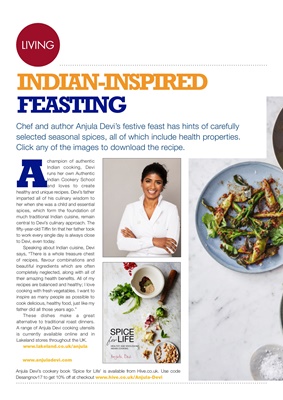 LIVINGLIVING
A
champion of authentic
Indian cooking, Devi
runs her own Authentic
Indian Cookery School
and loves to create
healthy and unique recipes. Devi's father
imparted all of his culinary wisdom to
her when she was a child and essential
spices, which form the foundation of
much traditional Indian cuisine, remain
central to Devi's culinary approach. The
fifty-year-old Tiffin tin that her father took
to work every single day is always close
to Devi, even today.
Speaking about Indian cuisine, Devi
says, "There is a whole treasure chest
of recipes, flavour combinations and
beautiful ingredients which are often
completely neglected, along with all of
their amazing health benefits. All of my
recipes are balanced and healthy; I love
cooking with fresh vegetables. I want to
inspire as many people as possible to
cook delicious, healthy food, just like my
father did all those years ago."
These dishes make a great
alternative to traditional roast dinners.
A range of Anjula Devi cooking utensils
is currently available online and in
Lakeland stores throughout the UK.
INDIAN-INSPIRED
FEASTING
Anjula Devi's cookery book 'Spice for Life' is available from Hive.co.uk. Use code
Desangnov17 to get 10% off at checkout www.hive.co.uk/anjula-devi
Chef and author Anjula Devi's festive feast has hints of carefully
selected seasonal spices, all of which include health properties.
Click any of the images to download a PDF of the recipe.