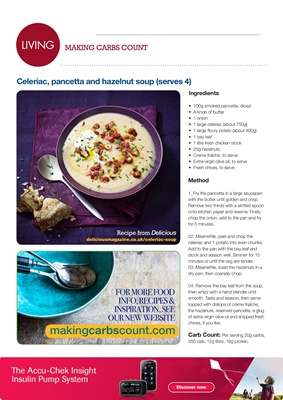 LIVINGLIVING
Celeriac, pancetta and hazelnut soup (serves 4)
Ingredients
• 100g smoked pancetta, diced
• A knob of butter
• 1 onion
• 1 large celeriac (about 750g)
• 1 large floury potato (about 400g)
• 1 bay leaf
• 1 litre fresh chicken stock
• 25g hazelnuts
• Crème fraîche, to serve
• Extra-virgin olive oil, to serve
• Fresh chives, to serve
MAKING CARBS COUNT
Method
1. Fry the pancetta in a large saucepan
with the butter until golden and crisp.
Remove two thirds with a slotted spoon
onto kitchen paper and reserve. Finely
chop the onion, add to the pan and fry
for 5 minutes.
02. Meanwhile, peel and chop the
celeriac and 1 potato into even chunks.
Add to the pan with the bay leaf and
stock and season well. Simmer for 15
minutes or until the veg are tender.
03. Meanwhile, toast the hazelnuts in a
dry pan, then coarsely chop.
04. Remove the bay leaf from the soup,
then whizz with a hand blender until
smooth. Taste and season, then serve
topped with dollops of crème fraîche,
the hazelnuts, reserved pancetta, a glug
of extra-virgin olive oil and snipped fresh
chives, if you like.
Carb Count: Per serving 20g carbs,
350 cals, 12g fibre, 16g protein.
Recipe from Delicious
deliciousmagazine.co.uk/celeriac-soup
FOR MORE FOOD
INFO, RECIPES &
INSPIRATION, SEE
OUR NEW WEBSITE
makingcarbscount.com