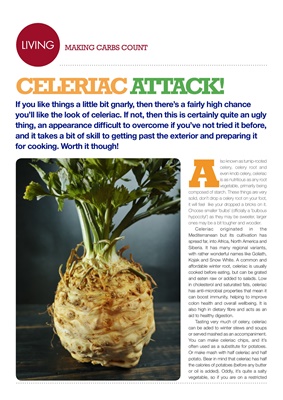 LIVINGLIVING
If you like things a little bit gnarly, then there's a fairly high chance
you'll like the look of celeriac. If not, then this is certainly quite an ugly
thing, an appearance difficult to overcome if you've not tried it before,
and it takes a bit of skill to getting past the exterior and preparing it
for cooking. Worth it though!
MAKING CARBS COUNT
Also known as turnip-rooted
celery, celery root and
even knob celery, celeriac
is as nutritious as any root
vegetable, primarily being
composed of starch. These things are very
solid, don't drop a celery root on your foot,
it will feel like your dropped a bricks on it.
Choose smaller 'bulbs' (officially a 'bulbous
hypocotyl') as they may be sweeter, larger
ones may be a bit tougher and woodier.
Celeriac originated in the
Mediterranean but its cultivation has
spread far, into Africa, North America and
Siberia. It has many regional variants,
with rather wonderful names like Goliath,
Kojak and Snow White. A common and
affordable winter root, celeriac is usually
cooked before eating, but can be grated
and eaten raw or added to salads. Low
in cholesterol and saturated fats, celeriac
has anti-microbial properties that mean it
can boost immunity, helping to improve
colon health and overall wellbeing. It is
also high in dietary fibre and acts as an
aid to healthy digestion.
Tasting very much of celery, celeriac
can be aded to winter stews and soups
or served mashed as an accompaniment.
You can make celeriac chips, and it's
often used as a substitute for potatoes,
or make mash with half celeriac and half
potato. Bear in mind that celeriac has half
the calories of potatoes (before any butter
or oil is added). Oddly, it's quite a salty
vegetable, so if you are on a restricted
CELERIAC ATTACK!