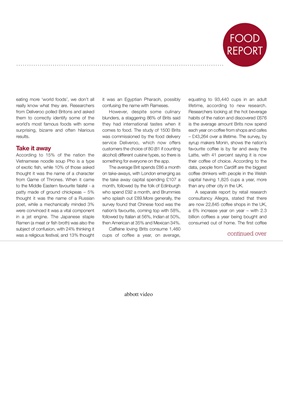 KITLIVING
FOOD
REPORT
Meanwhile, back in the UK, we are
eating more 'world foods', we don't all
really know what they are. Researchers
from Deliveroo polled Britons and asked
them to correctly identify some of the
world's most famous foods with some
surprising, bizarre and often hilarious
results.
Take it away
According to 15% of the nation the
Vietnamese noodle soup Pho is a type
of exotic fish, while 10% of those asked
thought it was the name of a character
from Game of Thrones. When it came
to the Middle Eastern favourite falafel - a
patty made of ground chickpeas - 5%
thought it was the name of a Russian
poet, while a mechanically minded 3%
were convinced it was a vital component
in a jet engine. The Japanese staple
Ramen (a meat or fish broth) was also the
subject of confusion, with 24% thinking it
was a religious festival, and 13% thought
it was an Egyptian Pharaoh, possibly
confusing the name with Rameses.
However, despite some culinary
blunders, a staggering 86% of Brits said
they had international tastes when it
comes to food. The study of 1500 Brits
was commissioned by the food delivery
service Deliveroo, which now offers
customers the choice of 80 (81 if counting
alcohol) different cuisine types, so there is
something for everyone on the app.
The average Brit spends £86 a month
on take-aways, with London emerging as
the take away capital spending £107 a
month, followed by the folk of Edinburgh
who spend £92 a month, and Brummies
who splash out £89.More generally, the
survey found that Chinese food was the
nation's favourite, coming top with 58%,
followed by Italian at 56%, Indian at 50%,
then American at 35% and Mexican 34%.
Caffeine loving Brits consume 1,460
cups of coffee a year, on average,
equating to 93,440 cups in an adult
lifetime, according to new research.
Researchers looking at the hot beverage
habits of the nation and discovered £676
is the average amount Brits now spend
each year on coffee from shops and cafes
- £43,264 over a lifetime. The survey, by
syrup makers Monin, shows the nation's
favourite coffee is by far and away the
Latte, with 41 percent saying it is now
their coffee of choice. According to the
data, people from Cardiff are the biggest
coffee drinkers with people in the Welsh
capital having 1,825 cups a year, more
than any other city in the UK.
A separate report by retail research
consultancy Allegra, stated that there
are now 22,845 coffee shops in the UK,
a 6% increase year on year - with 2.3
billion coffees a year being bought and
consumed out of home. The first coffee
shop, The Angel, was opened in Oxford in
1652, with the second opening in London
in the same year.
Lee Hyde, Beverage Innovation
Manager at Monin commented on
the statistics, "We are seeing a rise in
coffee shops and coffee culture across
the country, and this trend is being
continued over
abbott video