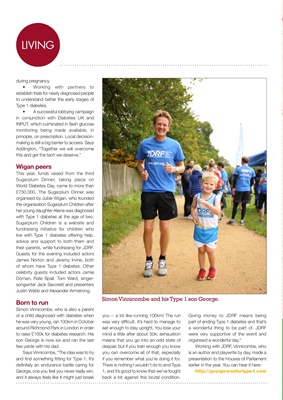 LIVINGLIVING
Simon Vinnicombe and his Type 1 son George.
you -- a lot like running 100km! The run
was very difficult. It's hard to manage to
eat enough to stay upright. You lose your
mind a little after about 50k; exhaustion
means that you go into an odd state of
despair, but if you train enough you know
you can overcome all of that, especially
if you remember what you're doing it for.
There is nothing I wouldn't do to end Type
1, and it's good to know that we've fought
during pregnancy.
• Working with partners to
establish trials for newly diagnosed people
to understand better the early stages of
Type 1 diabetes.
• A successful lobbying campaign
in conjunction with Diabetes UK and
INPUT, which culminated in flash glucose
monitoring being made available, in
principle, on prescription. Local decisionmaking is still a big barrier to access. Says
Addington, "Together we will overcome
this and get the tech we deserve."
Wigan peers
This year, funds raised from the third
Sugarplum Dinner, taking place on
World Diabetes Day, came to more than
£750,000. The Sugarplum Dinner was
organised by Jubie Wigan, who founded
the organisation Sugarplum Children after
her young daughter Aliena was diagnosed
with Type 1 diabetes at the age of two.
Sugarplum Children is a website and
fundraising initiative for children who
live with Type 1 diabetes offering help,
advice and support to both them and
their parents, while fundraising for JDRF.
Guests for the evening included actors
James Norton and Jeremy Irvine, both
of whom have Type 1 diabetes. Other
celebrity guests included actors Jamie
Dornan, Rafe Spall, Tom Ward, singersongwriter Jack Savoretti
and presenters
Justin Webb and Alexander Armstrong.
Born to run
Simon Vinnicombe, who is also a parent
of a child diagnosed with diabetes when
he was very young, ran 100km in October
around Richmond Park in London in order
to raise £100k for diabetes research. His
son George is now six and ran the last
few yards with his dad.
Says Vinnicombe, "The idea was to try
and find something fitting for Type 1. It's
definitely an endurance battle caring for
George, one you feel you never really win,
and it always feels like it might just break
back a bit against this brutal condition.
Giving money to JDRF means being
part of ending Type 1 diabetes and that's
a wonderful thing to be part of. JDRF
were very supportive of the event and
organised a wonderful day."
Working with JDRF, Vinnicombe, who
is an author and playwrite by day, made a
presentation to the Houses of Parliament
earlier in the year.