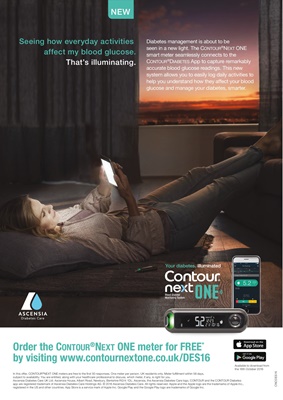 Order the CONTOUR®NEXT ONE meter for FREE*
by visiting www.contournextone.co.uk/des16
Diabetes management is about to be
seen in a new light. The Contour®Next ONE
smart meter seamlessly connects to the
Contour®Diabetes App to capture remarkably
accurate blood glucose readings. This new
system allows you to easily log daily activities to
help you understand how they affect your blood
glucose and manage your diabetes, smarter.
CNODES16
Seeing how everyday activities
affect my blood glucose.
That's illuminating.
NEW
In this offer, Contour®NEXT ONE meters are free to the first 50 responses. One meter per person. UK residents only. Meter fulfillment within 56 days,
subject to availability. You are entitled, along with your healthcare professional to discuss, which meter, if any, is right for you.
Ascensia Diabetes Care UK Ltd. Ascensia House, Albert Road, Newbury, Berkshire RG14 1DL. Ascensia, the Ascensia Diabetes Care logo, CONTOUR and the CONTOUR Diabetes
app are registered trademark of Ascensia Diabetes Care Holdings AG. © 2016 Ascensia Diabetes Care. All rights reserved. Apple and the Apple logo are the trademarks of Apple Inc.,
registered in the US and other countries. App Store is a service mark of Apple Inc. Google Play and the Google Play logo are trademarks of Google Inc.
Available to download from
the 18th October 2016