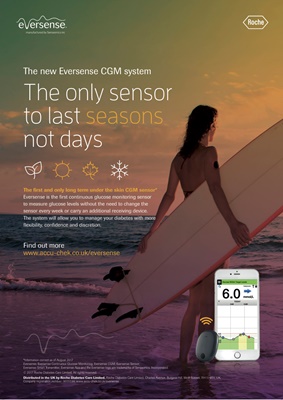 The only sensor
to last seasons
not days
The new Eversense CGM system
The first and only long term under the skin CGM sensor*
Eversense is the first continuous glucose monitoring sensor
to measure glucose levels without the need to change the
sensor every week or carry an additional receiving device.
The system will allow you to manage your diabetes with more
flexibility, confidence and discretion.
Find out more
*Information correct as of August 2017
Eversense, Eversense Continuous Glucose Monitoring, Eversense CGM, Eversense Sensor,
Eversense Smart Transmitter, Eversense App and the Eversense logo are trademarks of Senseonics, Incorporated.
© 2017 Roche Diabetes Care Limited. All rights reserved.
Distributed in the UK by Roche Diabetes Care Limited. Roche Diabetes Care Limited, Charles Avenue, Burgess Hill, West Sussex, RH15 9RY, UK.
Company registration number: 9055599. www.accu-chek.co.uk/eversense