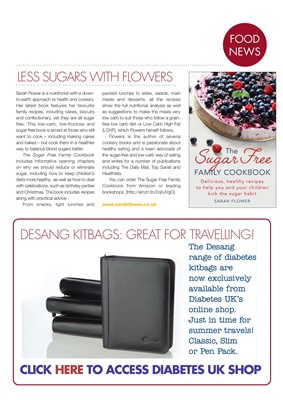 KITLIVING
FOOD
NEWS
Sarah Flower is a nutritionist with a downto-earth approach
to health and cookery.
Her latest book features her favourite
family recipes, including cakes, biscuits
and confectionary, yet they are all sugar
free. This low carb, low fructose and
sugar free book is aimed at those who still
want to cook - including cakes and bakes
- but do them in a healthier, lose weight
and balance blood sugars.
The Sugar Free Family Cookbook
includes informative opening chapters
on why we should reduce or eliminate
sugar, including how to keep children's
diets more healthy, as well as how to deal
with celebrations, such as birthday parties
and Christmas. The book includes recipes
along with practical advice.
From snacks, light lunches and
LESS SUGARS WITH FLOWERS
packed lunches to sides, salads, main
meals and desserts, all the recipes
show the full nutritional analysis as well
as suggestions to make the meals very
low carb to suit those who follow a grainfree
low carb diet or Low Carb High Fat
(LCHF), which Flowers herself follows.
Flowers is the author of several
cookery books and is passionate about
healthy eating and a keen advocate of
the sugar-free and low carb way of eating
and writes for a number of publications
including The Daily Mail, Top Santé and
Healthista.
You can order The Sugar Free Family
Cookbook from Amazon or leading
bookshops. [http://amzn.to/2qxjvgo]
CLICK HERE TO ACCESS DIABETES UK SHOP
DESANG KITBAGS: GREAT FOR TRAVELLING!
The Desang
range of diabetes
kitbags are
now exclusively
available from
Diabetes UK's
online shop.
Just in time for
summer travels!
Classic, Slim
or Pen Pack.