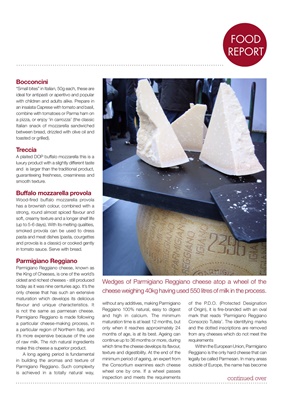 KITLIVING
continued over
you prefer. The traditional Italian way is
to enjoy as an antipasti, with datterini
tomatoes and salami.
Bocconcini
"Small bites" in Italian, 50g each, these are
ideal for antipasti or aperitivo and popular
with children and adults alike. Prepare in
an insalata Caprese with tomato and basil,
combine with tomatoes or Parma ham on
a pizza, or enjoy 'in carrozza' (the classic
Italian snack of mozzarella sandwiched
between bread, drizzled with olive oil and
toasted or grilled).
Treccia
A plaited DOP buffalo mozzarella this is a
luxury product with a slightly different taste
and islarger than the traditional product,
guaranteeing freshness, creaminess and
smooth texture.
Buffalo mozzarella provola
Wood-fired buffalo mozzarella provola
has a brownish colour, combined with a
strong, round almost spiced flavour and
soft, creamy texture and a longer shelf life
(up to 5-6 days). With its melting qualities,
smoked provola can be used to dress
pasta and meat dishes (pasta, courgettes
and provola is a classic) or cooked gently
in tomato sauce. Serve with bread.
Parmigiano Reggiano
Parmigiano Reggiano cheese, known as
the King of Cheeses, is one of the world's
oldest and richest cheeses - still produced
today as it was nine centuries ago. It's the
only cheese that has such an extensive
maturation which develops its delicious
flavour and unique characteristics.
The use of raw milk and the richness
of natural ingredients make this cheese
a superior product. A long ageing period
is fundamental in building the aromas
and texture of Parmigiano Reggiano.
Such complexity is achieved in a totally
natural way, without any additives, making
Parmigiano Reggiano 100% natural,
easy to digest and high in calcium. The
minimum maturation time is at least
12 months, but only when it reaches
approximately 24 months of age, is at
its best. Ageing can continue up to 36
months or more, during which time the
cheese develops its flavour, texture and
digestibility. At the end of the minimum
period of ageing, an expert from the
Consortium examines each cheese
wheel one by one. If a wheel passes
inspection and meets the requirements
of the P.D.O. (Protected Designation
FOOD
REPORT
of Origin), it is fire-branded with an oval
mark that reads 'Parmigiano Reggiano
Consorzio Tutela'. The identifying marks
and the dotted inscriptions are removed
from any cheeses which do not meet the
requirements
Within the European Union, Parmigiano
Reggiano is the only hard cheese that can
legally be called Parmesan. In many areas
outside of Europe, the name has become
genericized and is used by a number of
Wedges of Parmesan cheese atop a wheel of the cheese weighing
40kg having used 550 litres of milk in the process.