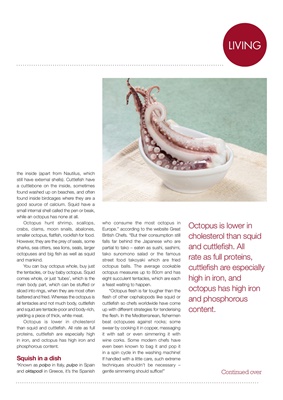 KITLIVING
Continued over
the inside (apart from Nautilus, which
still have external shells). Cuttlefish have
a cuttlebone on the inside, sometimes
found washed up on beaches, and often
found inside birdcages where they are a
good source of calcium. Squid have a
small internal shell called the pen or beak,
while an octopus has none at all.
Octopus hunt shrimp, scallops,
crabs, clams, moon snails, abalones,
smaller octopus, flatfish, rockfish for food.
However, they are the prey of seals, some
sharks, sea otters, sea lions, seals, larger
octopuses and big fish as well as squid
and mankind.
You can buy octopus whole, buy just
the tentacles, or buy baby octopus. Squid
comes whole, or just 'tubes', which is the
main body part, which can be stuffed or
sliced into rings, when they are most often
battered and fried. Whereas the octopus is
all tentacles and not much body, cuttlefish
and squid are tentacle-poor and body-rich,
yielding a piece of thick, white meat.
Octopus is lower in cholesterol
than squid and cuttlefish. All rate as full
proteins, cuttlefish are especially high
in iron, and octopus has high iron and
phosphorous content.
Squish in a dish
"Known as polpo in Italy, pulpo in Spain
and oktapodi in Greece, it's the Spanish
who consume the most octopus in
Europe." according to the website Great
British Chefs. "But their consumption still
falls far behind the Japanese who are
partial to tako - eaten as sushi, sashimi,
tako sunomono salad or the famous
street food takoyaki which are fried
octopus balls. The average cookable
octopus measures up to 80cm and has
eight succulent tentacles, which are each
a feast waiting to happen.
"Octopus flesh is far tougher than the
flesh of other cephalopods like squid or
cuttlefish so chefs worldwide have come
up with different strategies for tenderising
the flesh. In the Mediterranean, fishermen
beat octopuses against rocks; some
swear by cooking it in copper, massaging
it with salt or even simmering it with
wine corks. Some modern chefs have
even been known to bag it and pop it
in a spin cycle in the washing machine!
If handled with a little care, such extreme
techniques shouldn't be necessary -
gentle simmering should suffice!"
Octopus is lower in
cholesterol than squid
and cuttlefish. All
rate as full proteins,
cuttlefish are especially
high in iron, and
octopus has high iron
and phosphorous
content.