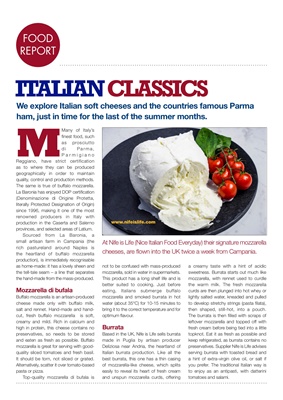 LIVINGLIVING
MMany of Italy's
finest food, such
as prosciutto
di Parma,
Parmigiano
Reggiano, have strict certification
as to where they can be produced
geographically in order to maintain
quality, control and production methods.
The same is true of buffalo mozzarella.
La Baronia has enjoyed DOP certification
(Denominazione di Origine Protetta,
literally Protected Designation of Origin)
since 1996, making it one of the most
renowned producers in Italy with
production in the Caserta and Salerno
provinces, and selected areas of Latium.
Sourced from La Baronia, a
small artisan farm in Campania (the
rich pastureland around Naples is
the heartland of buffalo mozzarella
production), is immediately recognisable
as home-made: it has a lovely sheen and
the tell-tale seam - a line that separates
the hand-made from the mass-produced.
Mozzarella di bufala
Buffalo mozzarella at its freshest, artisanproduced
hand-cut buffalo mozzarella,
made only with buffalo milk, salt and
rennet.
Hand-made and hand-cut fresh buffalo
mozzarella is fresh, soft, creamy and mild.
Rich in calcium and high in protein, this
cheese contains no preservatives, so
needs to be stored and eaten as fresh as
possible. Buffalo mozzarella is great for
serving with good-quality sliced tomatoes
and fresh basil. It should be torn, not
sliced or grated. Alternatively, scatter it
over tomato-based pasta or pizza.
ITALIAN CLASSICS
We explore Italian soft cheeses and the countries famous Parma
ham, just in time for the last of the summer months.
FOOD
REPORT
Top-quality mozzarella di bufala is
not to be confused with mass-produced
mozzarella, sold in water in supermarkets.
This product has a long shelf life and is
better suited to cooking. Just before
eating, Italians submerge buffalo
mozzarella and smoked burrata in hot
water (about 35°C) for 10-15 minutes to
bring it to the correct temperature and for
optimum flavour.
Burrata
Based in the UK, Nife is Life sells burrata
made in Puglia by artisan producer
Deliziosa near Andria, the heartland of
Italian burrata production. Like all the
best burrata, this one has a thin casing
of mozzarella-like cheese, which splits
easily to reveal its heart of fresh cream
and unspun mozzarella curds, offering
a creamy taste with a hint of acidic
sweetness. Burrata starts out much like
mozzarella, with rennet used to curdle
the warm milk. The fresh mozzarella
curds are then plunged into hot whey or
lightly salted water, kneaded and pulled
to develop stretchy strings (pasta filata),
then shaped, still-hot, into a pouch.
The burrata is then filled with scraps of
leftover mozzarella and topped off with
fresh cream before being tied into a little
topknot. Eat it as fresh as possible and
keep refrigerated, as burrata contains no
preservatives. Supplier Nife is Life advises
serving burrata with toasted bread and
a hint of extra-virgin olive oil, or salt if
At Nife is Life (Nice Italian Food Everyday) their signature mozzarella
di bufala, burrata, treccia and smoked burrata, are flown into the
UK twice a week from Campania.