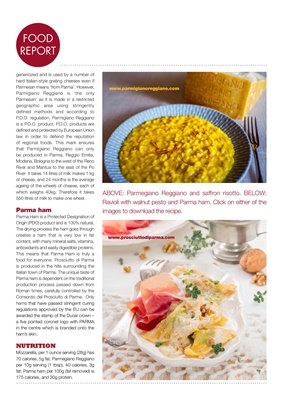 LIVINGLIVING
FOOD
REPORT
hard Italian-style grating cheeses even if
Parmesan means 'from Parma'. However,
Parmigiano Reggiano is 'the only
Parmesan' as it is made in a restricted
geographic area using stringently
defined methods and according to
P.D.O. regulation. Parmigiano Reggiano
is a P.D.O. product. P.D.O. products are
defined and protected by European Union
law in order to defend the reputation
of regional foods. This mark ensures
that Parmigiano Reggiano can only
be produced in Parma, Reggio Emilia,
Modena, Bologna to the west of the Reno
River and Mantua to the east of the Po
River It takes 14 litres of milk makes 1 kg
of cheese, and 24 months is the average
ageing of the wheels of cheese, each of
which weighs 40kg. Therefore it takes
550 litres of milk to make one wheel.
Parma ham
Parma Ham is a Protected Designation of
Origin (PDO) product and is 100% natural.
The drying process the ham goes through
creates a ham that is very low in fat
content, with many mineral salts, vitamins,
antioxidants and easily digestible proteins.
This means that Parma Ham is truly a
food for everyone. Prosciutto di Parma
is produced in the hills surrounding the
Italian town of Parma. The unique taste of
Parma ham is dependent on the traditional
production process passed down from
Roman times, carefully controlled by the
Consorzio del Prosciutto di Parma. Only
hams that have passed stringent curing
regulations approved by the EU can be
awarded the stamp of the Ducal crown -
a five pointed coronet logo with PARMA
in the centre which is branded onto the
ham's skin. The Ducal Crown is now a
certification trademark.
NUTRITION
Mozzareall, per 1 ounce serving (28g)
has 70 calories, 5g fat. Parmesan per
10g serving (1 tbsp), 40 calories, 3g fat.
Parma ham per 100g (fat removed) is 175
calories, and 30g protein.
BOVE: Parmesan and saffron risotto. BELOW: Ravioli with walnut
pesto and Parma ham. Click on either of the images to download
the recipe.