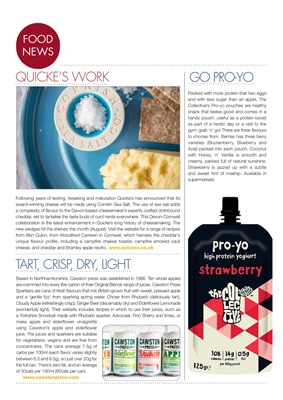 LIVINGLIVING
FOOD
NEWS
GO PRO-YO
QUICKES WORK
Following years of testing, tweaking and maturation Quicke's has announced that its
award-winning cheese will be made using Cornish Sea Salt. The use of sea salt adds
a complexity of flavour to the Devon-based cheesemaker's expertly crafted clothbound
cheddar, set to tantalise the taste buds of curd nerds everywhere. This Devon-Cornwall
collaboration is the latest enhancement in Quicke's long history of cheesemaking. The
new wedges hit the shelves this month (August). Visit the website for a range of recipes
from Ben Quinn, from Woodfired Canteen in Cornwall, which harness the cheddar's
unique flavour profile, including a campfire cheese toastie, campfire smoked cauli
cheese, and cheddar and Bramley apple risotto. www.quickes.co.uk
Based in Northhamtonshire, Cawston press was established in 1986. Ten whole apples
are crammed into every litre carton of their Original Blends range of juices. Cawston Press
Sparklers are cans of delicious fresh flavours mixing British-grown fruit with sweet, pressed
apple with a 'gentle fizz' from sparking spring water. Chose from Rhubarb (deliciously tart),
Cloudy Apple (refreshingly crisp), Ginger Beer (discernably dry) and Elderflower Lemonade
(wonderfully light). Their website includes recipes in which to use their juices. Make a
Yorkshire Snowball with Rhubarb sparker, Advocaat, Fino Sherry and limes, or apple
and elderflower vinaigrette using Cawston's
apple and elderflower juice. The juices
and sparklers are suitable for vegetarians,
vegans and are free from concentrates.
The cans average 7.5g of carbs per 100ml
(each flavor varies slightly between 6.5
and 8.5g), so just over 20g for the full can.
There's zero fat, and an average of 30cals
per 100ml (90cals per can).
Packed with more protein that two eggs
and with less sugar than an apple, The
Collective's Pro-yo pouches are healthy
snack that tastes good and comes in a
handy pouch, useful as a protein boost
as part of a hectic day or a visit to the
gym: grab 'n' go! There are three flavours
to choose from. Berries has three berry
varieties (Boysenberry, Blueberry and
Acai) packed into each pouch. Coconut
with Honey 'n' Vanilla is smooth and
creamy, packed full of natural sunshine.
Strawberry is jazzed up with a subtle
and sweet hint of rosehip. Available in
supermarkets
TART, CRISP, DRY, LIGHT