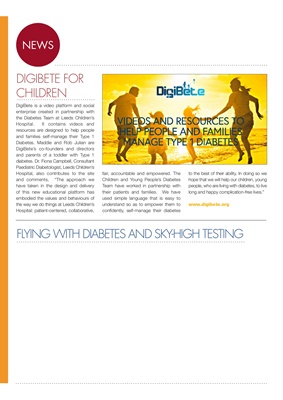 NEWS
FLYING WITH DIABETES
VIDEO
DIGIBETE FOR
CHILDREN
DigiBete is a video platform and social
enterprise created in partnership with
the Diabetes Team at Leeds Children's
Hospital. It contains videos and
resources are designed to help people
and families self-manage their Type 1
Diabetes. Maddie and Rob Julian are
DigiBete's co-founders and directors
and parents of a toddler with Type 1
diabetes. Dr. Fiona Campbell, Consultant
Paediatric Diabetologist, Leeds Children's
Hospital, also contributes to the site
and comments, "The approach we
have taken in the design and delivery
of this new educational platform has
embodied the values and behaviours of
the way we do things at Leeds Children's
Hospital: patient-centered, collaborative,
fair, accountable and empowered. The
Children and Young People's Diabetes
Team have worked in partnership with
their patients and families. We have
used simple language that is easy to
understand so as to empower them to
confidently, self-manage their diabetes
to the best of their ability. In doing so we
hope that we will help our children, young
people, who are living with diabetes, to live
long and happy complication-free lives."
FLYING WITH DIABETES AND SKY-HIGH TESTING