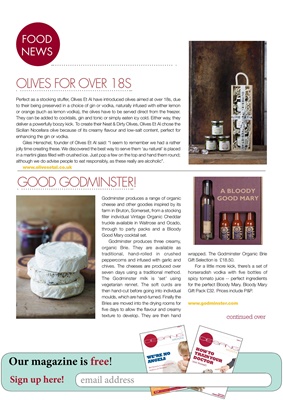 continued over
GOOD GODMINSTER!
OLIVES FOR OVER 18S
Perfect as a stocking stuffer, Olives Et Al have introduced olives aimed at over 18s, due
to their being preserved in a choice of gin or vodka, naturally infused with either lemon
or orange (such as lemon vodka), the olives have to be served direct from the freezer.
They can be added to cocktails, gin and tonic or simply eaten icy cold. Either way, they
deliver a powerfully boozy kick. To create their Neat & Dirty Olives, Olives Et Al chose the
Sicilian Nocellara olive because of its creamy flavour and low-salt content, perfect for
enhancing the gin or vodka.
Giles Henschel, founder of Olives Et Al said: "I seem to remember we had a rather
jolly time creating these. We discovered the best way to serve them 'au naturel' is placed
in a martini glass filled with crushed ice. Just pop a few on the top and hand them round;
although we do advise people to eat responsibly, as these really are alcoholic".
FOOD
NEWS
ISSUE 30
MAGAZINE
DESANG
PLUS • New Products • Groovy giveaways • News (for T1 and T2)
WE'RE NO
ANGELS
But business as usual is best for
diabetics at Christmas
MAKING
CARBS COUNT:
CHESTNUTS ROASTING
ON OPEN FIRES
Our magazine is free!
Sign up here! email address
Godminster produces a range of organic
cheese and other goodies inspired by its
farm in Bruton, Somerset, from a stocking
filler individual Vintage Organic Cheddar
truckle available in Waitrose and Ocado,
through to party packs and a Bloody
Good Mary cocktail set.
Godminster produces three creamy,
organic Brie. They are available as
traditional, hand-rolled in crushed
peppercorns and infused with garlic and
chives. The cheeses are produced over
seven days using a traditional method.
The Godminster milk is 'set' using
vegetarian rennet. The soft curds are
then hand-cut before going into individual
moulds, which are hand-turned. Finally the
Bries are moved into the drying rooms for
five days to allow the flavour and creamy
texture to develop. They are then hand
wrapped. The Godminster Organic Brie
Gift Selection is £18.50.
For a little more kick, there's a set of
horseradish vodka with five bottles of
spicy tomato juice -- perfect ingredients
for the perfect Bloody Mary. Bloody Mary
Gift Pack £32. Prices include P&P.