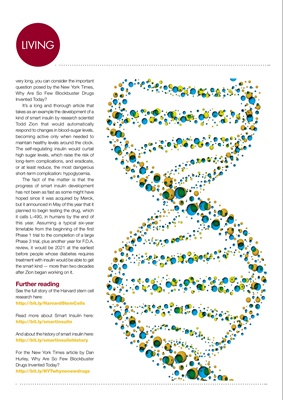 LIVINGLIVING
very long, you can consider the important
question posed by the New York Times,
Why Are So Few Blockbuster Drugs
Invented Today?
It's a long and thorough article that
takes as an example the development of a
kind of smart insulin by research scientist
Todd Zion that would automatically
respond to changes in blood-sugar levels,
becoming active only when needed to
maintain healthy levels around the clock.
The self-regulating insulin would curtail
high sugar levels, which raise the risk of
long-term complications, and eradicate,
or at least reduce, the most dangerous
short-term complication: hypoglycemia.
The fact of the matter is that the
progress of smart insulin development
has not been as fast as some might have
hoped since it was acquired by Merck,
but it announced in May of this year that it
planned to begin testing the drug, which
it calls L-490, in humans by the end of
this year. Assuming a typical six-year
timetable from the beginning of the first
Phase 1 trial to the completion of a large
Phase 3 trial, plus another year for F.D.A.
review, it would be 2021 at the earliest
before people whose diabetes requires
treatment with insulin would be able to get
the smart kind - more than two decades
after Zion began working on it.
Further reading
See the full story of the Harvard stem
cell research here: http://bit.ly/
HarvardStemCells
Read more about Smart Insulin here:
And about the history of smart insulin here:
http://bit.ly/smartinsulinhistory
For the New York Times article by Dan
Hurley, Why Are So Few Blockbuster
Drugs Invented Today? http://bit.ly/
NYTwhynonewdrugs