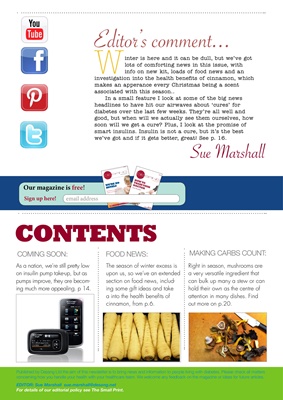 CONTENTS
Published by Desang Ltd the aim of this newsletter is to bring news and information to people living with diabetes. Please check all matters
concerning how you handle your health with your healthcare team. We welcome any feedback on the magazine or ideas for future articles.
EDITOR: Sue Marshall sue.marshall@desang.netshall" target="_blank" title="Visit sue.marshall">sue.marshall@desang.net
For details of our editorial policy see The Small Print.
The season of winter excess is
upon us, so we've an extended
section on food news, including some gift ideas and take
a into the health benefits of
cinnamon, from p.6.
Sue Marshall
COMING SOON:
As a nation, we're still pretty low
on insuilin pump take-up, but as
pumps improve, they are becoming much more appealing. p 14.
Winter is here and it can be dull, but we've got
lots of comforting news in this issue, with
info on new kit, loads of food news and an
investigation into the health benefits of cinnamon, which
makes an apperance every Christmas being a scent
associated with this season..
In a small feature I look at some of the big news
headlines to have hit our airwaves about 'cures' for
diabetes over the last few weeks. They're all well and
good, but when will we actually see them ourselves, how
soon will we get a cure? Plus, I look at the promise of
smart insulins. Insulin is not a cure, but it's the best
we've got and if it gets better, great! See p. 16.
Editor's comment...
ISSUE 30
MAGAZINE
DESANG
PLUS • New Products • Groovy giveaways • News (for T1 and T2)
WE'RE NO
ANGELS
But business as usual is best for
diabetics at Christmas
MAKING
CARBS COUNT:
CHESTNUTS ROASTING
ON OPEN FIRES
Our magazine is free!
Sign up here! email address
FOOD NEWS:
Right in season, mushrooms are
a very versatile ingredient that
can bulk up many a stew or can
hold their own as the centre of
attention in many dishes. Find
out more on p.20.
MAKING CARBS COUNT: