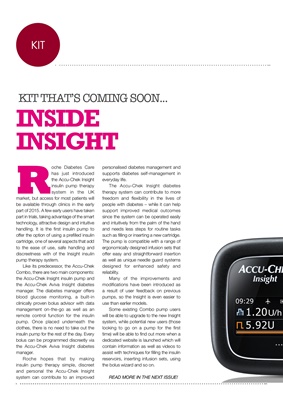 KIT
Roche Diabetes Care
has just introduced
the Accu-Chek Insight
insulin pump therapy
system in the UK
market, but access for most patients will
be available through clinics in the early
part of 2015. A few early users have taken
part in trials, taking advantage of the smart
technology, attractive design and intuitive
handling. It is the first insulin pump to
offer the option of using a prefilled insulin
cartridge, one of several aspects that add
to the ease of use, safe handling and
discreetness with of the Insight insulin
pump therapy system.
Like its predecessor, the Accu-Chek
Combo, there are two main components:
the Accu-Chek Insight insulin pump and
the Accu-Chek Aviva Insight diabetes
manager. The diabetes manager offers
blood glucose monitoring, a built-in
clinically proven bolus advisor with data
management on-the-go as well as an
remote control function for the insulin
pump. Once placed underneath the
clothes, there is no need to take out the
insulin pump for the rest of the day. Every
bolus can be programmed discreetly via
the Accu-Chek Aviva Insight diabetes
manager.
Roche hopes that by making
insulin pump therapy simple, discreet
and personal the Accu-Chek Insight
system can contribute to an improved
KIT THAT'S COMING SOON...
INSIDE
INSIGHT
personalised diabetes management and
supports diabetes self-management in
everyday life.
The Accu-Chek Insight diabetes
therapy system can contribute to more
freedom and flexibility in the lives of
people with diabetes - while it can help
support improved medical outcomes
since the system can be operated easily
and intuitively from the palm of the hand
and needs less steps for routine tasks
such as filling or inserting a new cartridge.
The pump is compatible with a range of
ergonomically designed infusion sets that
offer easy and straightforward insertion
as well as unique needle guard systems
designed for enhanced safety and
reliability.
Many of the improvements and
modifications have been introduced as
a result of user feedback on previous
pumps, so the Insight is even easier to
use than earlier models.
Some existing Combo pump users
will be able to upgrade to the new Insight
system, while potential new users (those
looking to go on a pump for the first
time) will be able to find out more when a
dedicated website is launched which will
contain information as well as videos to
assist with techniques for filling the insulin
reservoirs, inserting infusion sets, using
the bolus wizard and so on.
READ MORE IN THE NEXT ISSUE!