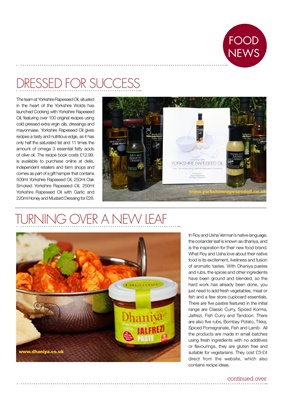 FOOD
NEWS
DRESSED FOR SUCCESS
The team at Yorkshire Rapeseed Oil, situated
in the heart of the Yorkshire Wolds has
launched Cooking with Yorkshire Rapeseed
Oil, featuring over 100 original recipes using
cold pressed extra virgin oils, dressings and
mayonnaise. Yorkshire Rapeseed Oil gives
recipes a tasty and nutritious edge, as it has
only half the saturated fat and 11 times the
amount of omega 3 essential fatty acids
of olive oil. The recipe book costs £12.99,
is available to purchase online at delis,
independent retailers and farm shops and
comes as part of a gift hamper that contains
500ml Yorkshire Rapeseed Oil, 250ml Oak
Smoked Yorkshire Rapeseed Oil, 250ml
Yorkshire Rapeseed Oil with Garlic and
220ml Honey and Mustard Dressing for £28.
www.yorkshirerapeseedoil.co.uk
In Roy and Usha Verman's native language,
the coriander leaf is known as dhaniya, and
is the inspiration for their new food brand.
What Roy and Usha love about their native
food is its excitement, liveliness and fusion
of aromatic tastes. With Dhaniya pastes
and rubs, the spices and other ingredients
have been ground and blended, so the
hard work has already been done, you
just need to add fresh vegetables, meat or
fish and a few store cupboard essentials.
There are five pastes featured in the initial
range are Classic Curry, Spiced Korma,
Jalfrezi, Fish Curry and Tandoori. There
are also five rubs, Bombay Potato, Tikka,
Spiced Pomegranate, Fish and Lamb. All
the products are made in small batches
using fresh ingredients with no additives
or flavourings, they are gluten free and
suitable for vegetarians. They cost £3-£4
direct from the website, which also
contains recipe ideas.
TURNING OVER A NEW LEAF
continued over