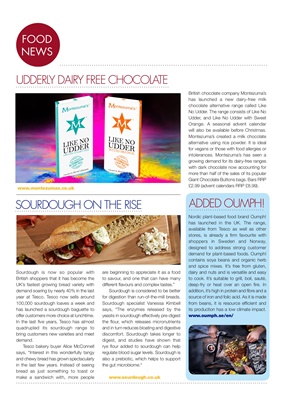 LIVINGLIVING
UDDERLY DAIRY FREE CHOCOLATE
FOOD
NEWS
British chocolate company Montezuma's
has launching a new dairy-free milk
chocolate alternative range called Like
No Udder. The range consists of Like No
Udder, and Like No Udder with Sweet
Orange. A seasonal advent calendar
will also be available before Christmas.
Montezuma's created a milk chocolate
alternative using rice powder. It is ideal
for vegans or those with food allergies or
intolerances. Montezuma's has seen a
growing demand for its dairy-free ranges
with dark chocolate now accounting for
more than half of the sales of its popular
Giant Chocolate Buttons bags. RRP of
£2.99. The advent calendars, available
from October, are RRP £8.99.
Sourdough is now so popular with
British shoppers that it has become the
UK's fastest growing bread variety with
demand soaring by nearly 40% in the last
year at Tesco. Tesco now sells around
100,000 sourdough loaves a week and
has launched a sourdough baguette to
offer customers more choice at lunchtime.
In the last five years, Tesco has almost
quadrupled its sourdough range to
bring customers new varieties and meet
demand.
Tesco bakery buyer Alice McConnell
says, "Interest in this wonderfully tangy
and chewy bread has grown spectacularly
in the last few years. Instead of seeing
bread as just something to toast or
make a sandwich with, more people
SOURDOUGH ON THE RISE
are beginning to appreciate it as a food
to savour, and one that can have many
different flavours and complex tastes."
Sourdough is considered to be better
for digestion than run-of-the-mill breads.
Sourdough specialist Vanessa Kimbell
says, "The enzymes released by the
yeasts in sourdough effectively pre-digest
the flour, which releases micronutrients
and in turn reduces bloating and digestive
discomfort. Sourdough takes longer to
digest, and studies have shown that
rye flour added to sourdough can help
regulate blood sugar levels. Sourdough is
also a prebiotic, which helps to support
the gut microbiome."
ADDED OUMPH!
Nordic plant-based food brand Oumph!
has launched in the UK. The range,
available from Tesco as well as other
stores, is already a firm favourite with
shoppers in Sweden and Norway,
designed to address strong customer
demand for plant-based foods. Oumph!
contains soya beans and organic herb
and spice mixes. It's free from gluten,
dairy and nuts and is versatile and easy
to cook. It's suitable to grill, boil, sauté,
deep-fry or heat over an open fire. In
addition, it's high in protein and fibre and a
source of iron and folic acid. As it is made
from beans, it is resource efficient and
its production has a low climate impact.