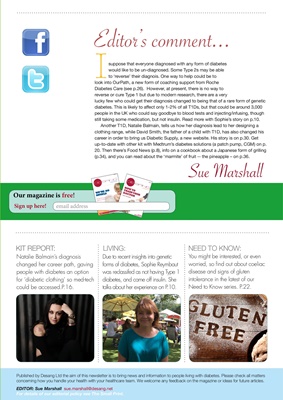 Published by Desang Ltd the aim of this newsletter is to bring news and information to people living with diabetes. Please check all matters
concerning how you handle your health with your healthcare team. We welcome any feedback on the magazine or ideas for future articles.
EDITOR: Sue Marshall sue.marshall@desang.net
For details of our editorial policy see The Small Print.
Natalie Balmain's diagnosis
changed her career path, gaving
people with diabetes an option
for 'diabetic clothing' so med-tech
could be accessed.P.16.
Sue Marshall
You might be interested, or even
worried, so find out about coeliac
disease and signs of gluten
intolerance in the latest of our
Need to Know series. P.22.
Isuppose that everyone diagnosed with any form of diabetes
would like to be un-diagnosed. Some Type 2s may be able
to 'reverse' their diagnois. One way to help could be to
look into OurPath, a new form of coaching support from Roche
Diabetes Care (see p.26). However, at present, there is no way to
reverse or cure Type 1 but due to modern research, there are a very
lucky few who could get their diagnosis changed to being that of a rare form of genetic
diabetes. This is likely to affect only 1-2% of all T1Ds, but that could be around 3,000
people in the UK who could say goodbye blood tests and injecting/infusing, still taking
some medication, but not insulin. Read more with Sophie's story on p.10.
Another T1D, Natalie Balmain, tells us how her diagnosis lead to her designing a
clothing range, while David Smith, the father of a child with T1D, has also changed his
career in order to bring us Diabetic Supply, a new website. His story is on p.30. Get
up-to-date with other kit with Medtrum's diabetes solutions (a patch pump, CGM) on p.
20. Then there's Food News (p.8), info on a cookbook about a Japanese form of grilling
(p.34), and you can read about the 'marmite' of fruit -- the pineapple - on p.36.
Editor's comment...
ISSUE 30
MAGAZINE
DESANG
PLUS • New Products • Groovy giveaways • News (for T1 and T2)
WE'RE NO
ANGELS
But business as usual is best for
diabetics at Christmas
MAKING
CARBS COUNT:
CHESTNUTS ROASTING
ON OPEN FIRES
Our magazine is free!
Sign up here! email address
LIVING:
Due to recent insights into genetic
forms of diabetes, Sophie Reymbaut
was reclassifed as not having Type 1
diabetes, and came off insulin. She
talks about her experience on P.10.
KIT REPORT: NEED TO KNOW: