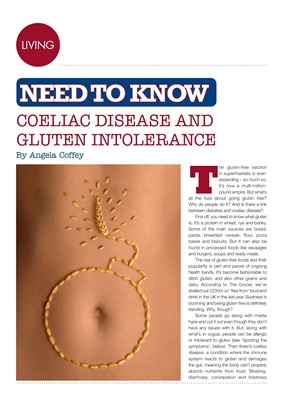 LIVINGLIVING
COELIAC DISEASE AND
GLUTEN INTOLERANCE
NEED TO KNOW
T
he gluten-free section
in supermarkets is everexpanding - so much so,
it's now a multi-millionpound
empire. But what's
all the fuss about going gluten free?
Why do people do it? And is there a link
between diabetes and coeliac disease?
First off, you need to know what gluten
is. It's a protein in wheat, rye and barley.
Some of the main sources are bread,
pasta, breakfast cereals, flour, pizza
bases and biscuits. But it can also be
found in processed foods like sausages
and burgers, soups and ready meals.
The rise of gluten-free foods and their
popularity is part and parcel of ongoing
health trends. It's become fashionable to
ditch gluten, and also other grains and
dairy. According to The Grocer, we've
shelled out £230m on 'free from' food and
drink in the UK in the last year. Business is
booming and being gluten free is definitely
trending. Why, though?
Some people go along with media
hype and cut it out even though they don't
have any issues with it. But, along with
what's in vogue, people can be allergic
or intolerant to gluten (see 'Spotting the
symptoms', below). Then there's coeliac
disease: a condition where the immune
system reacts to gluten and damages
the gut, meaning the body can't properly
absorb nutrients from food. Bloating,
diarrhoea, constipation and tiredness
By Angela Coffey