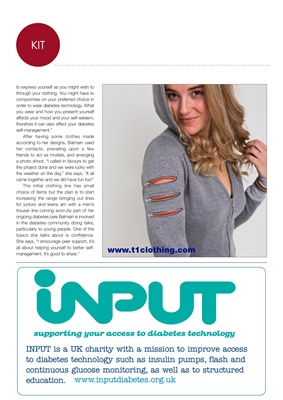 KIT
to express yourself as you might wish to
through your clothing. You might have to
compromise on your preferred choice in
order to wear diabetes technology. What
you wear and how you present yourself
affects your mood and your self-esteem,
therefore it can also affect your diabetes
self-management."
After having some clothes made
according to her designs, Balmain used
her contacts, prevailing upon a few
friends to act as models, and arranging
a photo shoot. "I called in favours to get
the project done and we were lucky with
the weather on the day," she says, "It all
came together and we did have fun too!"
The initial clothing line has small
choice of items but the plan is to start
increasing the range bringing out lines
for juniors and teens am with a men's
trouser line coming soon.As part of her
ongoing diabetes care Balmain is involved
in the diabetes community doing talks,
particularly to young people. One of the
topics she talks about is confidence.
She says, "I encourage peer support, it's
all about helping yourself to better selfmanagement. It's
good to share."
INPUT is a UK charity with a mission to improve access
to diabetes technology such as insulin pumps, flash and
continuous glucose monitoring, as well as to structured
education. www.inputdiabetes.org.uk www.t1clothing.com