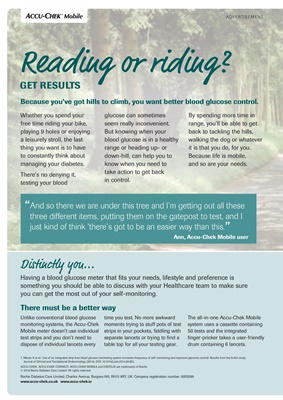 " And so there we are under this tree and I'm getting out all these
three different items, putting them on the gatepost to test, and I
just kind of think 'there's got to be an easier way than this."Ann, Accu-Chek Mobile user
ADVERTISEMENT
1. Maran A et al.: Use of an integrated strip-free blood glucose monitoring system increases frequency of self-monitoring and improves glycemic control: Results from the ExAct study.
Journal of Clinical and Translational Endocrinology (2014). DOI: 10.1016/j.jcte.2014.08.003.
ACCU-CHEK, ACCU-CHEK CONNECT, ACCU-CHEK MOBILE and FASTCLIX are trademarks of Roche.
© 2018 Roche Diabetes Care Limited. All rights reserved.
Roche Diabetes Care Limited, Charles Avenue, Burgess Hill, RH15 9RY, UK. Company registration number: 9055599
www.accu-chek.co.uk www.accu-chek.ie
There must be a better way
Unlike conventional blood glucose
monitoring systems, the Accu-Chek
Mobile meter doesn't use individual
test strips and you don't need to
dispose of individual lancets every
time you test. No more awkward
moments trying to stuff pots of test
strips in your pockets, fiddling with
separate lancets or trying to find a
table top for all your testing gear.
The all-in-one Accu-Chek Mobile
system uses a cassette containing
50 tests and the integrated
finger-pricker takes a user-friendly
drum containing 6 lancets.
Distinctly you...
Having a blood glucose meter that fits your needs, lifestyle and preference is
something you should be able to discuss with your Healthcare team to make sure
you can get the most out of your self-monitoring.
Whether you spend your
free time riding your bike,
playing 9 holes or enjoying
a leisurely stroll, the last
thing you want is to have
to constantly think about
managing your diabetes.
There's no denying it,
testing your blood
glucose can sometimes
seem really inconvenient.
But knowing when your
blood glucose is in a healthy
range or heading up- or
down-hill, can help you to
know when you need to
take action to get back
in control.
By spending more time in
range, you'll be able to get
back to tackling the hills,
walking the dog or whatever
it is that you do, for you.
Because life is mobile,
and so are your needs.
Reading or riding?
GET RESULTS
Because you've got hills to climb, you want better blood glucose control.