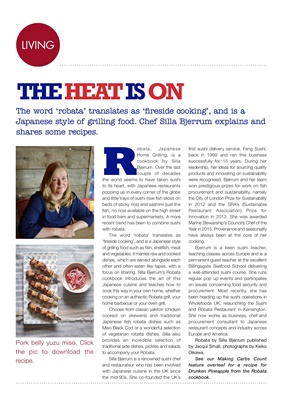 LIVINGLIVING
THE HEAT IS ON
The word 'robata' translates as 'fireside cooking', and is a
Japanese style of grilling food. Chef Silla Bjerrum explains and
shares some recipes.R
obata, Japanese
Home Grilling, is a
cookbook by Silla
Bjerrum. Over the last
couple of decades
the world seems to have taken sushi
to its heart, with Japanese restaurants
popping up in every corner of the globe
and little trays of sushi (raw fish slices on
beds of sticky rice) and sashimi (just the
fish, no rice) available on the high street
in food bars and supermarkets. A more
recent trend has been to combine sushi
with robata.
The word 'robata' translates as
'fireside cooking', and is a Japanese style
of grilling food such as fish, shellfish, meat
and vegetables. It marries raw and cooked
dishes, which are served alongside each
other and often eaten like tapas, with a
focus on sharing. Silla Bjerrum's Robata
cookbook introduces the art of this
Japanese cuisine and teaches how to
cook this way in your own home, whether
cooking on an authentic Robata grill, your
home barbecue or your oven grill.
Choose from classic yakitori (chicken
cooked on skewers) and traditional
Japanese fish robata dishes such as
Miso Black Cod or a wonderful selection
of vegetarian robata dishes. Silla also
provides an incredible selection of
traditional side dishes, pickles and salads
to accompany your Robata.
Silla Bjerrum is a renowned sushi chef
and restaurateur who has been involved
with Japanese cuisine in the UK since
the mid-90s. She co-founded the UK's
first sushi delivery service, Feng Sushi,
back in 1999 and ran this business
successfully for 15 years. During her
leadership, her ideas for sourcing quality
products and innovating on sustainability
were recognised. Bjerrum and her team
won prestigious prizes for work on fish
procurement and sustainability, namely
the City of London Prize for Sustainability
in 2012 and the SRA's (Sustainable
Restaurant Association) Prize for
Innovation in 2013. She was awarded
Marine Stewarship's Council's Chef of the
Year in 2015. Provenance and seasonality
have always been at the core of her
cooking.
Bjerrum is a keen sushi teacher,
teaching classes across Europe and is a
permanent guest teacher at the excellent
Billingsgate Seafood School delivering
a well-attended sushi course. She runs
regular pop up events and participates
on issues concerning food security and
procurement. Most recently, she has
been heading up the sushi operations in
Wholefoods UK, relaunching the Sushi
and Robata Restaurant in Kensington.
She now works as business, chef and
procurement consultant to Japanese
restaurant concepts and industry across
Europe and America.
Robata by Silla Bjerrum published
by Jacqui Small, photographs by Keiko
Oikawa.
See our Making Carbs Count
feature overleaf for a recipe for
Drunken Pineapple from the Robata
cookbook.
Pork belly yuzu miso. Click
the pic to download the
recipe.