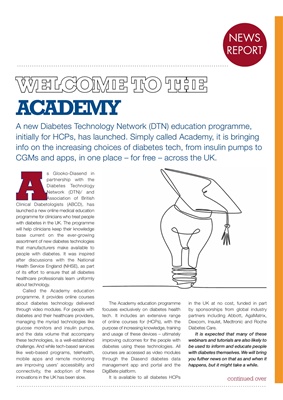 NEWS
NEWS
REPORT
WELCOME TO THE
WELCOME TO THE
ACADEMY
A new Diabetes Technology Network (DTN) education programme,
initially for HCPs, has launched. Simply called Academy, it is bringing
info on the increasing choices of diabetes tech, from insulin pumps to
CGMs and apps, in one place - for free - across the UK.
AA
s Glooko-Diasend in
partnership with the
Diabetes Technology
Network (DTN)/ and
Association of British
Clinical Diabetologists (ABCD), has
launched a new online medical education
programme for clinicians who treat people
with diabetes in the UK. The programme
will help clinicians keep their knowledge
base current on the ever-growing
assortment of new diabetes technologies
that manufacturers make available to
people with diabetes. It was inspired
after discussions with the National
Health Service England (NHSE), as part
of its effort to ensure that all diabetes
healthcare professionals learn uniformly
about technology.
Called the Academy education
programme, it provides online courses
about diabetes technology delivered
through video modules. For people with
diabetes and their healthcare providers,
managing the myriad technologies like
glucose monitors and insulin pumps,
and the data volume that accompany
these technologies, is a well-established
challenge. And while tech-based services
like web-based programs, telehealth,
mobile apps and remote monitoring
are improving users' accessibility and
connectivity, the adoption of these
innovations in the UK has been slow.
The Academy education programme
focuses exclusively on diabetes health
tech. It includes an extensive range
of online courses for (HCPs), with the
purpose of increasing knowledge, training
and usage of these devices - ultimately
improving outcomes for the people with
diabetes using these technologies. All
courses are accessed as video modules
through the Diasend diabetes data
management app and portal and the
DigiBete platform.
It is available to all diabetes HCPs
in the UK at no cost, funded in part
by sponsorships from global industry
partners including Abbott, AgaMatrix,
Dexcom, Insulet, Medtronic and Roche
Diabetes Care.
It is expected that many of these
webinars and tutorials are also likely to
be used to inform and educate people
with diabetes themselves. We will bring
you futher news on that as and when it
happens, but it might take a while.
continued over