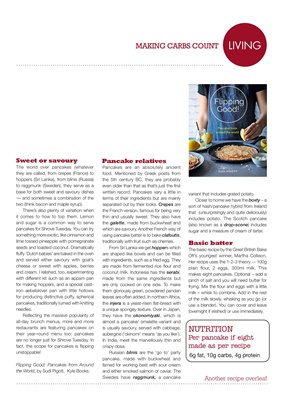 KITLIVING
MAKING CARBS COUNT
Another recipe overleaf
Sweet or savoury
The world over pancakes (whatever
they are called, from crepes (France) to
hoppers (Sri Lanka), from blinis (Russia)
to raggmunk (Sweden), they serve as a
base for both sweet and savoury dishes
¬- and sometimes a combination of the
two (think bacon and maple syrup).
There's also plenty of variation when
it comes to how to top them. Lemon
and sugar is a common way to serve
pancakes for Shrove Tuesday. You can try
something more exotic, like cinnamon and
lime tossed pineapple with pomegranate
seeds and toasted coconut. Dramatically
fluffy 'Dutch babies' are baked in the oven
and served either savoury with goat's
cheese or sweet with apples, berries
and cream. I relished, too, experimenting
with different kit such as an appam pan
for making hoppers, and a special castiron
aebelskiver pan with little hollows
for producing distinctive puffy, spherical
pancakes, traditionally turned with knitting
needles.
Reflecting the massive popularity of
all-day brunch menus, more and more
restaurants are featuring pancakes on
their year-round menu too: pancakes
are no longer just for Shrove Tuesday. In
fact, the scope for pancakes is flipping
unstoppable!
Flipping Good: Pancakes from Around
the World, by Sudi Pigott, Kyle Books.
Pancakes are an absolutely ancient
food. Mentioned by Greek poets from
the 5th century BC, they are probably
even older than that as that's just the first
written record. Pancakes vary a little in
terms of their ingredients but are mainly
separated out by their looks. Crepes are
the French version, famous for being very
thin and usually sweet. They also have
the galette, made from buckwheat and
which are savoury. Another French way of
using pancake batter is to bake clafoutis,
traditionally with fruit such as cherries.
From Sri Lanka we get hoppers which
are shaped like bowls and can be filled
with ingredients, such as a fried egg. They
are made from fermented rice flour and
coconut milk. Indonesia has the serabi,
made from the same ingredients but
are only cooked on one side. To make
them gloriously green, powdered pandan
leaves are often added. In northern Africa,
the injera is a yeast-risen flat-bread with
a unique spongey texture. Over in Japan,
they have the okonomiyaki, which is
almost a pancake/ omelatte variant and
is usually savoury, served with cabbage,
aubergine ('okinomi' means 'as you like').
In India, meet the marvellously thin and
crispy dosa.
Russian blinis are the 'go to' party
pancake, made with buckwheat and
famed for working best with sour cream
and either smoked salmon or caviar. The
Swedes have raggmunk, a pancake
6g fat, 10g carbs, 4g protein
NUTRITION
Per pancake if eight
made as per recipe
variant that includes grated potato.
Closer to home we have the boxty - a
sort of hash/pancake hybrid from Ireland
that (unsurprisingly and quite deliciously)
includes potato. The Scotch pancake
(also known as a drop-scone) includes
sugar and a measure of cream of tartar.
Basic batter
The basic recipe by the Great British Bake
Off's youngest winner, Martha Collison.
Her recipe uses the 1-2-3 theory -- 100g
plain flour, 2 eggs, 300ml milk. This
makes eight pancakes. Optional - add a
pinch of salt and you will need butter for
frying. Mix the flour and eggs with a little
milk - whisk to combine. Add in the rest
of the milk slowly, whisking as you go (or
use a blender). You can cover and leave
(overnight if wished) or use immediately.
Pancake relatives