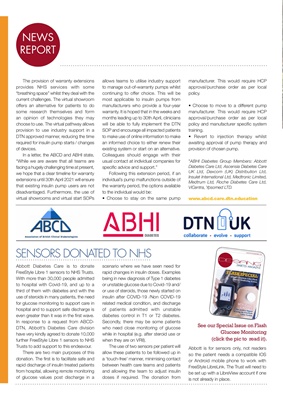 NEWS
The provision of warranty extensions
provides NHS services with some
"breathing space" whilst they deal with the
current challenges. The virtual showroom
offers an alternative for patients to do
some research themselves and form
an opinion of technologies they may
choose to use. The virtual pathway allows
provision to use industry support in a
DTN approved manner, reducing the time
required for insulin pump starts / changes
of devices.
In a letter, the ABCD and ABHI state,
"While we are aware that all teams are
facing a hugely challenging time at present,
we hope that a clear timeline for warranty
extensions until 30th April 2021 will ensure
that existing insulin pump users are not
disadvantaged. Furthermore, the use of
virtual showrooms and virtual start SOPs
allows teams to utilise industry support
to manage out-of-warranty pumps whilst
continuing to offer choice. This will be
most applicable to insulin pumps from
manufacturers who provide a four-year
warranty. It is hoped that in the weeks and
months leading up to 30th April, clinicians
will be able to fully implement the DTN
SOP and encourage all impacted patients
to make use of online information to make
an informed choice to either renew their
existing system or start on an alternative.
Colleagues should engage with their
usual contact at individual companies for
specific advice and support."
Following this extension period, if an
individual's pump malfunctions outside of
the warranty period, the options available
to the individual would be:
• Choose to stay on the same pump
manufacturer. This would require HCP
approval/purchase order as per local
policy.
• Choose to move to a different pump
manufacturer. This would require HCP
approval/purchase order as per local
policy and manufacturer specific system
training.
• Revert to injection therapy whilst
awaiting approval of pump therapy and
provision of chosen pump.
*ABHI Diabetes Group Members: Abbott
Diabetes Care Ltd, Ascensia Diabetes Care
UK Ltd, Dexcom (UK) Distribution Ltd,
Insulet International Ltd, Medtronic Limited,
Medtrum Ltd, Roche Diabetes Care Ltd,
ViCentra, Ypsomed LTD.
www.abcd
Abbott Diabetes Care is to donate
FreeStyle Libre 1 sensors to NHS Trusts.
With more than 30,000 people admitted
to hospital with Covid-19, and up to a
third of them with diabetes and with the
use of steroids in many patients, the need
for glucose monitoring to support care in
hospital and to support safe discharge is
even greater than it was in the first wave.
In response to a request from ABCDDTN, Abbott's
Diabetes Care division
have very kindly agreed to donate 10,000
further FreeStyle Libre 1 sensors to NHS
Trusts to add support to this endeavour.
There are two main purposes of this
donation. The first is to facilitate safe and
rapid discharge of insulin treated patients
from hospital, allowing remote monitoring
of glucose values post discharge in a
scenario where we have seen need for
rapid changes in insulin doses. Examples
being in new diagnosis of Type 1 diabetes
or unstable glucose due to Covid-19 and/
or use of steroids, those newly started on
insulin after COVID-19 /Non COVID-19
related medical condition, and discharge
of patients admitted with unstable
diabetes control in T1 or T2 diabetes.
Secondly, there may be some patients
who need close monitoring of glucose
while in hospital (e.g. after steroid use or
when they are on VRII).
The use of two sensors per patient will
allow these patients to be followed up in
a 'touch-free' manner, minimising contact
between health care teams and patients
and allowing the team to adjust insulin
doses if required. The donation from
Abbott is for sensors only, not readers
so the patient needs a compatible IOS
or Android mobile phone to work with
FreeStyle LibreLink. The Trust will need to
be set up with a LibreView account if one
is not already in place.
SENSORS DONATED TO NHS
FLASH GLUCOSE MONITORING ISSUE
FLASH SPECIAL
FLASH SPECIAL
• How it works • Getting started • Learning more
Abbott's FreeStyle Libre Flash
Glucose Monitoring System
SENSING A
SENSING A
CHANGECHANGE
The positive impact
of using the FreeStyle
Libre System
See our Special Issue on Flash
Glucose Monitoring
(click the pic to read it).
NEWS
REPORT