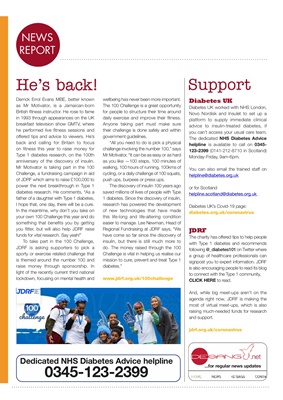 NEWS
Derrick Errol Evans MBE, better known
as Mr Motivator, is a Jamaican-born
British fitness instructor. He rose to fame
in 1993 through appearances on the UK
breakfast television show GMTV, where
he performed live fitness sessions and
offered tips and advice to viewers. He's
back and calling for Britain to focus
on fitness this year to raise money for
Type 1 diabetes research, on the 100th
anniversary of the discovery of insulin.
Mr Motivator is taking part in the 100
Challenge, a fundraising campaign in aid
of JDRF which aims to raise £100,000 to
power the next breakthrough in Type 1
diabetes research. He comments, "As a
father of a daughter with Type 1 diabetes,
I hope that, one day, there will be a cure.
In the meantime, why don't you take on
your own 100 Challenge this year and do
something that benefits you by getting
you fitter, but will also help JDRF raise
funds for vital research. Say yeah!"
To take part in the 100 Challenge,
JDRF is asking supporters to pick a
sporty or exercise related challenge that
is themed around the number 100 and
raise money through sponsorship. In
light of the recently current third national
lockdown, focusing on mental health and
wellbeing has never been more important.
The 100 Challenge is a great opportunity
for people to structure their time around
daily exercise and improve their fitness.
Anyone taking part must make sure
their challenge is done safely and within
government guidelines.
"All you need to do is pick a physical
challenge involving the number 100," says
Mr Motivator, "It can be as easy or as hard
as you like -100 steps, 100 minutes of
walking, 100 hours of running, 100kms of
cycling, or a daily challenge of 100 squats,
push ups, burpees or press ups.
The discovery of insulin 100 years ago
saved millions of lives of people with Type
1 diabetes. Since the discovery of insulin,
research has powered the development
of new technologies that have made
this life-long and life-altering condition
easier to manage. Lee Newman, Head of
Regional Fundraising at JDRF says, "We
have come so far since the discovery of
insulin, but there is still much more to
do. The money raised through the 100
Challenge is vital in helping us realise our
mission to cure, prevent and treat Type 1
diabetes."
Diabetes UK
Diabetes UK worked with NHS London,
Novo Nordisk and Insulet to set up a
platform to supply immediate clinical
advice to insulin-treated diabetes, if
you can't access your usual care team.
The dedicated NHS Diabetes Advice
helpline is available to call on 0345123-2399
Monday-Friday, 9am-6helpline.scotland@diabetes.org.uktrained staff on
helpline@diabetes.org.uk
or for Scotland
helpline.scotland@diabetes.org.uk
Diabetes UK's Covid-19 page:
diabetes.org.uk/coronavirus
JDRF
The charity has offered tips to help people
with Type 1 diabetes and recommends
following @_diabetes101 on Twitter where
a group of healthcare professionals can
signpost you to expert information. JDRF
is also encouraging people to read its blog
to connect with the Type 1 community,
CLICK HERE to read.
And, while big meet-ups aren't on the
agenda right now, JDRF is making the
most of virtual meet-ups, which is also
raising much-needed funds for research
and support.
jdrf.org.uk/coronavirus
Support
Dedicated NHS Diabetes Advice helpline
0345-123-2399
.net
...for regular news updates
NEWS
REPORT
He's back!