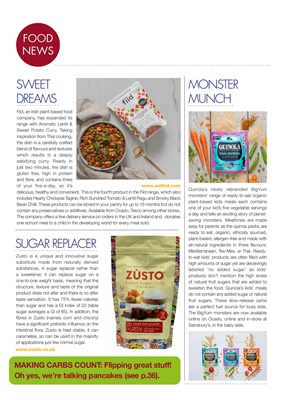 KIT
SWEET
DREAMS
Fiid, an Irish plant-based food
company, has expanded its
range with Aromatic Lentil &
Sweet Potato Curry. Taking
inspiration from Thai cooking,
the dish is a carefully crafted
blend of flavours and textures
which results in a deeply
satisfying curry. Ready in
just two minutes, the dish is
gluten free, high in protein
and fibre, and contains three
of your five-a-day, so it's
delicious, healthy and convenient. This is the fourth product in the Fiid range, which also
includes Hearty Chickpea Tagine; Rich Sundried Tomato & Lentil Ragu and Smoky Black
Bean Chilli. These products can be stored in your pantry for up to 18 months but do not
contain any preservatives or additives. Available from Ocado, Tesco among other stores.
The company offers a free delivery service on orders in the UK and Ireland and donates
one school meal to a child in the developing world for every meal sold.
MONSTER
MUNCH
FOOD
NEWS
SUGAR REPLACER
Zusto is a unique and innovative sugar
substitute made from naturally derived
substances. A sugar replacer rather than
a sweetener, it can replace sugar on a
one-to-one weight basis, meaning that the
structure, texture and taste of the original
product does not alter and there is no after
taste sensation. It has 75% fewer calories
than sugar and has a GI index of 22 (table
sugar averages a GI of 65). In addition, the
fibres in Zusto (namely corn and chicory)
have a significant prebiotic influence on the
intestinal flora. Zusto is heat stable, it can
caramelise, so can be used in the majority
of applications just like normal sugar.
Quinola's newly rebranded BigYum
monsters' range of ready-to-eat organic
plant-based kids meals each contains
one of your kid's five vegetable servings
a day and tells an exciting story of planetsaving
monsters. Mealtimes are made
easy for parents as the quinoa packs are
ready to eat, organic, ethically sourced,
plant-based, allergen-free and made with
all-natural ingredients in three flavours:
Mediterranean, Tex-Mex, or Thai. Readyto-eat kids'
products are often filled with
high amounts of sugar yet are deceivingly
labelled 'no added sugar' as kids'
products don't mention the high levels
of natural fruit sugars that are added to
sweeten the food. Quinola's kids' meals
do not contain any added sugar or natural
fruit sugars. These slow-release carbs
are a perfect fuel source for busy kids.
The BigYum monsters are now available
online on Ocado, online and in-store at
Sainsbury's, in the baby aisle.
MAKING CARBS COUNT: Flipping great stuff!
Oh yes, we're talking pancakes (see p.36).