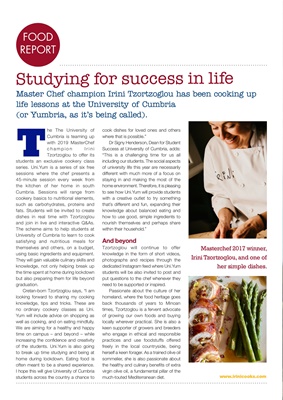 LIVINGLIVING
The The University of
Cumbria is teaming up
with 2019 MasterChef
champion Irini
Tzortzoglou to offer its
students an exclusive cookery class
series. Uni.Yum is a series of six free
sessions where the chef presents a
45-minute session every week from
the kitchen of her home in south
Cumbria. Sessions will range from
cookery basics to nutritional elements,
such as carbohydrates, proteins and
fats. Students will be invited to create
dishes in real time with Tzortzoglou
and join in live and interactive Q&As.
The scheme aims to help students at
University of Cumbria to learn to cook
satisfying and nutritious meals for
themselves and others, on a budget,
using basic ingredients and equipment.
They will gain valuable culinary skills and
knowledge, not only helping break up
the time spent at home during lockdown
but also preparing them for life beyond
graduation.
Cretan-born Tzortzoglou says, "I am
looking forward to sharing my cooking
knowledge, tips and tricks. These are
no ordinary cookery classes as Uni.
Yum will include advice on shopping as
well as cooking, and on eating mindfully.
We are aiming for a healthy and happy
time on campus - and beyond - while
increasing the confidence and creativity
of the students. Uni.Yum is also going
to break up time studying and being at
home during lockdown. Eating food is
often meant to be a shared experience.
I hope this will give University of Cumbria
students across the country a chance to
Masterchef 2017 winner,
Irini Tzortzoglou, and one of
her simple dishes.
FOOD
REPORT
Master Chef champion Irini Tzortzoglou has been cooking up
life lessons at the University of Cumbria
(or Yumbria, as it's being called).
Studying for success in life
cook dishes for loved ones and others
where that is possible."
Dr Signy Henderson, Dean for Student
Success at University of Cumbria, adds:
"This is a challenging time for us all
including our students. The social aspects
of university life this year are necessarily
different with much more of a focus on
staying in and making the most of the
home environment. Therefore, it is pleasing
to see how Uni.Yum will provide students
with a creative outlet to try something
that's different and fun, expanding their
knowledge about balanced eating and
how to use good, simple ingredients to
nourish themselves and perhaps share
within their household."
And beyond
Tzortzoglou will continue to offer
knowledge in the form of short videos,
photographs and recipes through the
dedicated Instagram feed where Uni.Yum
students will be also invited to post and
put questions to the chef whenever they
need to be supported or inspired.
Passionate about the culture of her
homeland, where the food heritage goes
back thousands of years to Minoan
times, Tzortzoglou is a fervent advocate
of growing our own foods and buying
locally wherever practical. She is also a
keen supporter of growers and breeders
who engage in ethical and responsible
practices and use foodstuffs offered
freely in the local countryside, being
herself a keen forager. As a trained olive oil
sommelier, she is also passionate about
the healthy and culinary benefits of extra
virgin olive oil, a fundamental pillar of the
much-touted Mediterranean diet. www.irinicooks.com