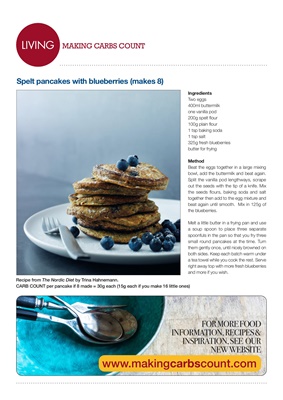 LIVINGLIVING
Spelt pancakes with blueberries
MAKING CARBS COUNT
Ingredients
Two eggs
400ml buttermilk
one vanilla pod
200g spelt flour
100g plain flour
1 tsp baking soda
1 tsp salt
325g fresh blueberries
butter for frying
Method
Beat the eggs together in a large mixing
bowl, add the buttermilk and beat again.
Split the vanilla pod lengthways, scrape
out the seeds with the tip of a knife. Mix
the seeds flours, baking soda and salt
together then add to the egg mixture and
beat again until smooth. Mix in 125g of
the blueberries.
Melt a little butter in a frying pan and use
a soup spoon to place three separate
spoonfuls in the pan so that you fry three
small round pancakes at the time. Turn
them gently once, until nicely browned on
both sides. Keep each batch warm under
a tea towel while you cook the rest. Serve
right away top with more fresh blueberries
and more if you wish.
FOR MORE FOOD
INFORMATION, RECIPES &
INSPIRATION, SEE OUR
NEW WEBSITE
Recipe from The Nordic Diet by Trina Hahnemann.