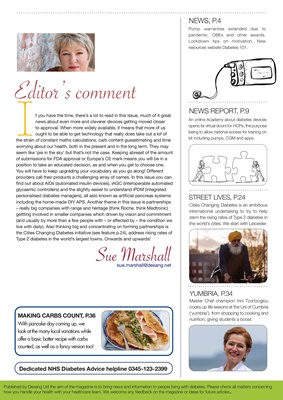 Published by Desang Ltd the aim of the magazine is to bring news and information to people living with diabetes. Please check all matters concerning
how you handle your health with your healthcare team. We welcome any feedback on the magazine or ideas for future articles..
Sue Marshall
This is the
Editor's comment
A ystem.
KIT REPORT, P.20
NEWS, P.4
An updat
The a
QIC AWARDS, P.12
LIVING FEATURE, P.24
Incredibly versatile, you'll be amazed
what one little bean can be used for,
and you might not have heard of it. Savory
or sweet, Adzuki beans are neat!
A quick rustle around some other
autoimmune conditions that often come
hand-in-hand with Type 1 diabetes in
particular, including vitiligo (pictured).
MAKING CARBS COUNT, P.38
Dedicated NHS Diabetes Advice helpline 0345-123-2399