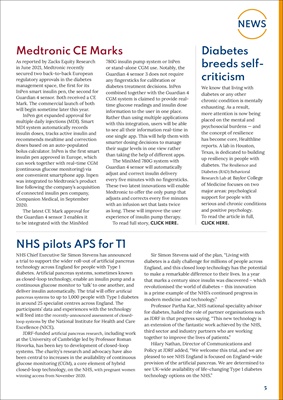 5
NEWS
Medtronic CE Marks
As reported by Zacks Equity Research
in June 2021, Medtronic recently
secured two back-to-back European
regulatory approvals in the diabetes
management space, the first for its
InPen smart insulin pen, the second for
Guardian 4 sensor. Both received a CE
Mark. The commercial launch of both
will begin sometime later this year.
InPen got expanded approval for
multiple daily injections (MDI). Smart
MDI system automatically records
insulin doses, tracks active insulin and
recommends mealtime and correction
doses based on an auto-populated
bolus calculator. InPen is the first smart
insulin pen approved in Europe, which
can work together with real-time CGM
(continuous glucose monitoring) via
one convenient smartphone app. Inpen
was integrated to Medtronic's product
line following the company's acquisition
of connected insulin pen company,
Companion Medical, in September
2020.
The latest CE Mark approval for
the Guardian 4 sensor 3 enables it
to be integrated with the MiniMed
780G insulin pump system or InPen
or stand-alone CGM use. Notably, the
Guardian 4 sensor 3 does not require
any fingersticks for calibration or
diabetes treatment decisions. InPen
combined together with the Guardian 4
CGM system is claimed to provide realtime glucose
readings and insulin dose
information to the user in one place.
Rather than using multiple applications
with this integration, users will be able
to see all their information real-time in
one single app. This will help them with
smarter dosing decisions to manage
their sugar levels in one view rather
than taking the help of different apps.
The MiniMed 780G system with
Guardian 4 sensor will automatically
adjust and correct insulin delivery
every five minutes with no fingersticks.
These two latest innovations will enable
Medtronic to offer the only pump that
adjusts and corrects every five minutes
with an infusion set that lasts twice
as long. These will improve the user
experience of insulin pump therapy.
To read full story, CLICK HERE.
NHS pilot APS for T1
NHS Chief Executive Sir Simon Stevens has announced
a trial to support the wider roll-out of artificial pancreas
technology across England for people with Type 1
diabetes. Artificial pancreas systems, sometimes known
as closed-loop technology, enable an insulin pump and
a continuous glucose monitor to 'talk' to one another,
and deliver insulin automatically. The trial will offer
artificial pancreas systems to up to 1,000 people with
Type 1 diabetes in around 25 specialist centres across
England. The participants' data and experiences with
the technology will feed into the recently-announced
assessment of closed-loop systems by the National
Institute for Health and Care Excellence (NICE).
JDRF-funded artificial pancreas research, including
work at the University of Cambridge led by Professor
Roman Hovorka, has been key to development of closedloop systems. The charity's
research and advocacy
have also been central to increases in the availability of
continuous glucose monitoring (CGM), a core element
of hybrid closed-loop technology, on the NHS, with
pregnant women winning access from November 2020.
Sir Simon Stevens said of the plan, "Living with
diabetes is a daily challenge for millions of people across
England, and this closed loop technology has the potential
to make a remarkable difference to their lives. In a year
that marks a century since insulin was discovered - which
revolutionised the world of diabetes - this innovation
is a prime example of the NHS's continued progress in
modern medicine and technology."
Professor Partha Kar, NHS national speciality advisor
for diabetes, hailed the role of partner organisations such
as JDRF in that progress saying, "This new technology is
an extension of the fantastic work achieved by the NHS,
third sector and industry partners who are working
together to improve the lives of patients."
Hilary Nathan, Director of Communications and
Policy at JDRF added, "We welcome this trial, and we are
pleased to see NHS England is focused on England-wide
provision of the artificial pancreas. We are determined to
see UK-wide availability of life-changing Type 1 diabetes
technology options on the NHS."
Diabetes
breeds selfcriticism
We know that living with
diabetes or any other
chronic condition is mentally
exhausting. As a result,
more attention is now being
placed on the mental and
psychosocial burdens - and
the concept of resilience
has become core, Healthline
reports. A lab in Houston,
Texas, is dedicated to building
up resiliency in people with
diabetes. The Resilience and
Diabetes (RAD) Behavioral
Research Lab at Baylor
College of Medicine focuses on
two major areas: psychological
support for people with
serious and chronic conditions
and positive psychology. To
read the article in full, CLICK
HERE.