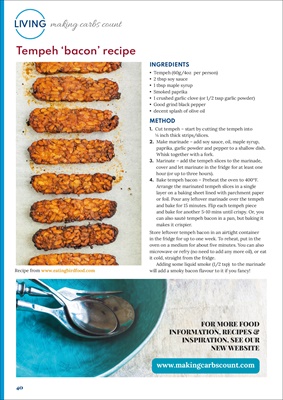 40
LIVING making carbs count
FOR MORE FOOD
INFORMATION, RECIPES &
INSPIRATION, SEE OUR
NEW WEBSITE
Tempeh 'bacon' recipe
INGREDIENTS
• Tempeh (60g/4oz per person)
• 2 tbsp soy sauce
• 1 tbsp maple syrup
• Smoked paprika
• 1 crushed garlic clove (or 1/2 tssp garlic powder)
• Good grind black pepper
• decent splash of olive oil
METHOD
1. Cut tempeh - start by cutting the tempeh into
¼ inch thick strips/slices.
2. Make marinade - add soy sauce, oil, maple syrup,
paprika, garlic powder and pepper to a shallow dish.
Whisk together with a fork.
3. Marinate - add the tempeh slices to the marinade,
cover and let marinate in the fridge for at least one
hour (or up to three hours).
4. Bake tempeh bacon - Preheat the oven to 400ºF.
Arrange the marinated tempeh slices in a single
layer on a baking sheet lined with parchment paper
or foil. Pour any leftover marinade over the tempeh
and bake for 15 minutes. Flip each tempeh piece
and bake for another 5-10 mins until crispy. Or, you
can also sauté tempeh bacon in a pan, but baking it
makes it crispier.
Store leftover tempeh bacon in an airtight container
in the fridge for up to one week. To reheat, put in the
oven on a medium for about five minutes. You can also
microwave or refry (no need to add any more oil), or eat
it cold, straight from the fridge.
Adding some liquid smoke (1/2 tsp) to the marinade
will add a smoky bacon flavour to it if you fancy!
Recipe from www.eatingbirdfood.com