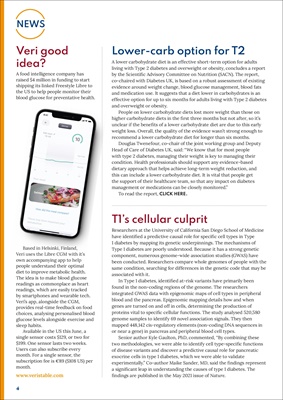 4
NEWS
Veri good
idea?
A food intelligence company has
raised $4 million in funding to start
shipping its linked Freestyle Libre to
the US to help people monitor their
blood glucose for preventative health.
Lower-carb option for T2
A lower carbohydrate diet is an effective short-term option for adults
living with Type 2 diabetes and overweight or obesity, concludes a report
by the Scientific Advisory Committee on Nutrition (SACN). The report,
co-chaired with Diabetes UK, is based on a robust assessment of existing
evidence around weight change, blood glucose management, blood fats
and medication use. It suggests that a diet lower in carbohydrates is an
effective option for up to six months for adults living with Type 2 diabetes
and overweight or obesity.
People on lower carbohydrate diets lost more weight than those on
higher carbohydrate diets in the first three months but not after, so it's
unclear if the benefits of a lower carbohydrate diet are due to this early
weight loss. Overall, the quality of the evidence wasn't strong enough to
recommend a lower carbohydrate diet for longer than six months.
Douglas Twenefour, co-chair of the joint working group and Deputy
Head of Care of Diabetes UK, said: "We know that for most people
with type 2 diabetes, managing their weight is key to managing their
condition. Health professionals should support any evidence-based
dietary approach that helps achieve long-term weight reduction, and
this can include a lower carbohydrate diet. It is vital that people get
the support of their healthcare team, so that any impact on diabetes
management or medications can be closely monitored."
To read the report, CLICK HERE.
T1's cellular culprit
Researchers at the University of California San Diego School of Medicine
have identified a predictive causal role for specific cell types in Type
1 diabetes by mapping its genetic underpinnings. The mechanisms of
Type 1 diabetes are poorly understood. Because it has a strong genetic
component, numerous genome-wide association studies (GWAS) have
been conducted. Researchers compare whole genomes of people with the
same condition, searching for differences in the genetic code that may be
associated with it.
In Type 1 diabetes, identified at-risk variants have primarily been
found in the non-coding regions of the genome. The researchers
integrated GWAS data with epigenomic maps of cell types in peripheral
blood and the pancreas. Epigenomic mapping details how and when
genes are turned on and off in cells, determining the production of
proteins vital to specific cellular functions. The study analysed 520,580
genome samples to identify 69 novel association signals. They then
mapped 448,142 cis-regulatory elements (non-coding DNA sequences in
or near a gene) in pancreas and peripheral blood cell types.
Senior author Kyle Gaulton, PhD, commented, "By combining these
two methodologies, we were able to identify cell type-specific functions
of disease variants and discover a predictive causal role for pancreatic
exocrine cells in type 1 diabetes, which we were able to validate
experimentally." Co-author Maike Sander, MD, said the findings represent
a significant leap in understanding the causes of type 1 diabetes. The
findings are published in the May 2021 issue of Nature.
Based in Helsinki, Finland,
Veri uses the Libre CGM with it's
own accompanying app to help
people understand their optimal
diet to improve metabolic health.
The idea is to make blood glucose
readings as commonplace as heart
readings, which are easily tracked
by smartphones and wearable tech.
Veri's app, alongside the CGM,
provides real-time feedback on food
choices, analysing personalised blood
glucose levels alongside exercise and
sleep habits.
Available in the US this June, a
single sensor costs $129, or two for
$199. One sensor lasts two weeks.
Users can also subscribe every
month. For a single sensor, the
subscription fee is €89 ($108 US) per
month.