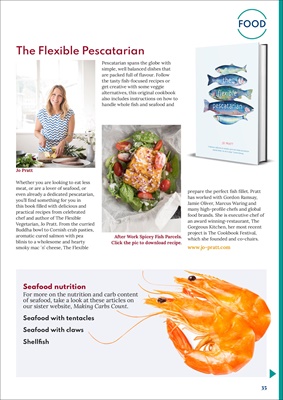 35
FOOD
The Flexible Pescatarian
Whether you are looking to eat less
meat, or are a lover of seafood, or
even already a dedicated pescatarian,
you'll find something for you in
this book filled with delicious and
practical recipes from celebrated
chef and author of The Flexible
Vegetarian, Jo Pratt. From the curried
Buddha bowl to Cornish crab pasties,
aromatic cured salmon with pea
blinis to a wholesome and hearty
smoky mac ´n' cheese, The Flexible
Pescatarian spans the globe with
simple, well balanced dishes that
are packed full of flavour. Follow
the tasty fish-focused recipes or
get creative with some veggie
alternatives, this original cookbook
also includes instructions on how to
handle whole fish and seafood and
prepare the perfect fish fillet. Pratt
has worked with Gordon Ramsay,
Jamie Oliver, Marcus Waring and
many high-profile chefs and global
food brands. She is executive chef of
an award winning-restaurant, The
Gorgeous Kitchen, her most recent
project is The Cookbook Festival,
which she founded and co-chairs.
After Work Spicey Fish Parcels.
Click the pic to download recipe.
Seafood nutrition
For more on the nutrition and carb content of seafood,
take a look at these articles on our sister website,
Making Carbs Count.
Seafood with tentacles
Seafood with claws
Shellfish
Jo Pratt