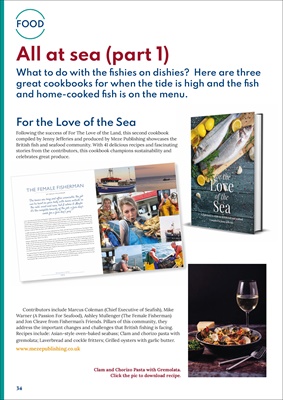 34
FOOD
All at sea (part 1)
What to do with the fishies on dishies? Here are three
great cookbooks for when the tide is high and the fish
and home-cooked fish is on the menu.
THE FEMALE FISHERMAN
BY ASHLEY MULLENGER
I own and operate two boats working from Wells-next-the-Sea which is a small seaside town on the north Norfolk coast.
My traditional Scottish-built boat, Fairlass, predominantly catches whelks, while the smaller 8m fibreglass boat Saoirse
catches crabs and lobsters too. It's no secret that this has historically been a man's job, and as a 'female fisherman' I am
often asked 'how did that happen?' Occasionally I will find myself staring down at a box full of stinking bait, splattered with
mud, rain streaming down my face at some god awful time of the night, wondering the same thing! I wouldn't change the
decision I made to ditch the clean, warm office life for a second though.
In 2009 I decided to book myself on a charter angling trip from Wells, and I fell in love with being at sea. The skipper, Nigel,
couldn't get rid of me afterwards so eventually he asked me to work with him. I spent my summers gutting mackerel and
cod and wrestling the odd small shark until 2013, when Nigel sold Sunbeam III and started fishing commercially before
buying his own boat, Never Can Tell-A.
Despite desperately wanting to have a career at sea, I was always put off by the level of physical work involved, the
danger and the fact that commercial day boats don't generally cater for female needs. However, in 2018 Nigel asked me
to come back and work for him again, and I've never looked back. The hours are long and often unsociable, the job can
be hard on your body with hours outside in the cold, wind and rain, but I adore it. Maybe it's the complete honesty of
the job: a fair day's work for a fair day's pay. Maybe it's the romance of working with nature and the elements? I try not
to analyse it but just appreciate how lucky I am.
We retired Never Can Tell-A in 2019 and replaced her with Fairlass, which Nigel's sons predominantly run. Saoirse joined
the fleet in October 2020 and we hope to diversify our catch with her, including fish in the longer term to sell locally. I
am deeply passionate about fish caught in the UK and would love to see the British public seeking out more of our own
'home-grown' fish, so that we don't have to rely as heavily on exporting our catch abroad.
"The hours are long and often unsociable, the job
can be hard on your body with hours outside in
the cold, wind and rain, but I adore it. Maybe
it's the complete honesty of the job: a fair day's
work for a fair day's pay."
FOR THE LOVE OF THE SEA
PAGE 48
Contributors include Marcus Coleman (Chief Executive of Seafish), Mike
Warner (A Passion For Seafood), Ashley Mullenger (The Female Fisherman)
and Jon Cleave from Fisherman's Friends. Pillars of this community, they
address the important changes and challenges that British fishing is facing.
Recipes include: Asian-style oven-baked seabass; Clam and chorizo pasta with
gremolata; Laverbread and cockle fritters; Grilled oysters with garlic butter.
For the Love of the Sea
Following the success of For The Love of the Land, this second cookbook
compiled by Jenny Jefferies and produced by Meze Publishing showcases the
British fish and seafood community. With 41 delicious recipes and fascinating
stories from the contributors, this cookbook champions sustainability and
celebrates great produce.
Clam and Chorizo Pasta with Gremolata.
Click the pic to download recipe.