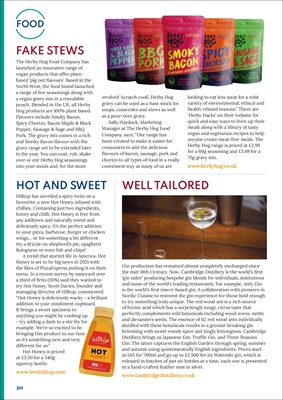 20
FOOD
FAKE STEWS
The Herby Hog Food Company has
launched an innovative range of
vegan products that offer plantbased
'pig out flavours'. Based in the
North West, the food brand launched
a range of five seasonings along with
a vegan gravy mix in a resealable
pouch. Blended in the UK, all Herby
Hog products are 100% plant based.
Flavours include Smoky Bacon,
Spicy Chorizo, Bacon Maple & Black
Pepper, Sausage & Sage and BBQ
Pork. The gravy mix comes in a rich
and Smoky Bacon flavour with the
gravy range set to be extended later
in the year. You can coat, rub, shake
over or stir Herby Hog seasonings
into your meals and, for the more
HOT AND SWEET
Hilltop has unveiled a spicy twist on a
favourite; a new Hot Honey infused with
chillies. Containing just two ingredients,
honey and chilli, Hot Honey is free from
any additives and naturally sweet and
deliciously spicy. It's the perfect addition
to your pizza, barbecue, burger or chicken
wings… or for something a bit different
try a drizzle on shepherd's pie, spaghetti
Bolognese or even fish and chips!
A trend that started life in America, Hot
Honey is set to be big news in 2021 with
the likes of PizzaExpress putting it on their
menu. In a recent survey by tastecard over
a third of Brits (35%) said they wanted to
try Hot Honey. Scott Davies, founder and
managing director of Hilltop, commented:
"Hot Honey is deliciously wacky - a brilliant
addition to your condiment cupboard.
It brings a sweet spiciness to
anything you might be cooking up
- try adding a dash to a stir fry for
example. We're so excited to be
bringing this product to our fans
as it's something new and very
different for us."
Hot Honey is priced
at £3.50 for a 340g
squeezy bottle.
WELL TAILORED
involved 'scratch cook', Herby Hog
gravy can be used as a base stock for
soups, casseroles and stews as well
as a pour-over gravy.
Sally Haydock, Marketing
Manager at The Herby Hog Food
Company, says, "Our range has
been created to make it easier for
consumers to add the delicious
flavours of bacon, sausage, pork and
chorizo to all types of food in a really
convenient way as many of us are
looking to eat less meat for a wide
variety of environmental, ethical and
health-related reasons." There are
'Herby Hacks' on their website for
quick and easy ways to liven up their
meals along with a library of tasty
vegan and vegetarian recipes to help
anyone create meat-free meals. The
Herby Hog range is priced at £2.99
for a 60g seasoning and £3.49 for a
75g gravy mix.
Gin production has remained almost completely unchanged since
the mid-18th Century. Now, Cambridge Distillery is the world's first
'gin tailor' producing bespoke gin blends for individuals, institutions
and some of the world's leading restaurants. For example, Anty Gin
is the world's first insect-based gin. A collaboration with pioneers in
Nordic Cuisine to reinvent the gin experience for those bold enough
to try something truly unique. The red wood ant is a rich source
of formic acid which has a surprisingly tangy, citrus taste that
perfectly complements wild botanicals including wood avens, nettle
and alexanders seeds. The essence of 62 red wood ants individually
distilled with these botanicals results in a ground-breaking gin
brimming with sweet woody spice and tingly lemongrass. Cambridge
Distillery brings us Japanese Gin, Truffle Gin, and Three Seasons
Gin. The latter captures the English Garden through spring, summer
and autumn using quintessentially English ingredients. Prices start
at £65 for 700ml and go up to £2,500 for its Watenshi gin, which is
released in batches of just six bottles at a time, each one is presented
in a hand-crafted feather nest in silver.