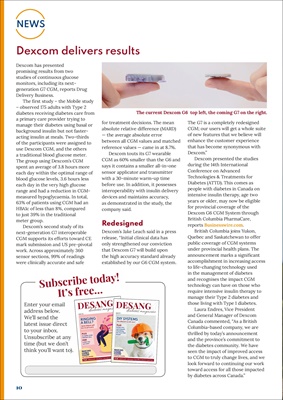 10
NEWS
atch.
oped
xxas'
array
tions
ble to
cine,
ccine
tches
- a
ld are
OVIDecent
patch
ccine
onse
scular
MAP
igher
o the
tside
o be
o the
tional
oping
tries.
AP in
40oC
t use
t this
cose,
d the
patch
n the
s.
rkout
cises.
we'll
then
ew to
might
ween
two.
leted,
we then take a six-minute rest (which
again is adaptable) and once recovered,
we repeat the circuit all over again."
Stephenson-Grey took part in the
London 2012 Olympics Games torch
relay and still trains (prior to lockdown) at
the track and in the gym. The exercises
she does include standing squats, pressups, the
plank, lunges, the superman
pose (when the opposite arm and leg are
stretched out) and sit ups.
She says, "This type of fitness session
is inspired by the type of session I've often
done with my training group over the
years, particularly at the start of the winter
or summer training season, as it helps
build strength and fitness as a foundation
to move onto other things. It works the
arms, legs and core areas throughout
the session, which can be helpful when
training a lot, because no one area is
necessarily over-worked or strained."
The home workout videos have been
accepted by many in the community.
She adds, "I'm sharing what training
sessions work for me. Please remember
that you know your own fitness, health
and diabetes best. Seek medical advice
if you are concerned about undertaking
physical activity."
Home workouts with Mel Stephenson-Grey of Life Sport Diabetes.
www. lifesportdiabetes.co.uk
ISSUE 88
DIABETES MAGAZINE
DESANG
MAKING
CARBS
COUNT:
SWEET POTATO
PLUS • Diabetes kit • Giveaways • News (for T1 and T2) • Food News
Access to blood test strips
and meters: your choice
PLUS:
Screen Time
(part 2): meters
Subscribe today!
Enter your email
address below.
We'll send the
latest issue direct
to your inbox.
Unsubscribe at any
time (but we don't
think you'll want to).
It's free...
Subscribe today!
It's free...
Enter your email
address below.
We'll send the
latest issue direct
to your inbox.
Unsubscribe at any
time (but we don't
think you'll want to). ISSUE 120
MAKING
CARBS
COUNT
EAT YOUR GREENS!
PLUS Diabetes kit • Giveaways • News (for T1 and T2) • Food News
RINGING
A BELL?
Alarm fatigue and
how to prevent it
PLUS
An update on the
MiniMed 780G
AND
Explore our
'new look'!
ISSUE 119
MAKING
CARBS
COUNT
LUSCIOUS LYCHEES
PLUS Diabetes kit • Giveaways • News (for T1 and T2) • Food News
DIY SYSTEMS
The ultimate in self-care?
PLUS
Roche's new
meter launch:
introducing
the Accu-Chek
Instant
Dexcom delivers results
Dexcom has presented
promising results from two
studies of continuous glucose
monitors, including its nextgeneration
G7 CGM, reports Drug
Delivery Business.
The first study - the Mobile study
- observed 175 adults with Type 2
diabetes receiving diabetes care from
a primary care provider trying to
manage their diabetes using basal or
background insulin but not fasteracting
insulin at meals. Two-thirds
of the participants were assigned to
use Dexcom CGM, and the others
a traditional blood glucose meter.
The group using Dexcom's CGM
spent an average of 3.8 hours more
each day within the optimal range of
blood glucose levels, 3.6 hours less
each day in the very high glucose
range and had a reduction in CGMmeasured
hypoglycaemia. In total,
63% of patients using CGM had an
HBA1c of less than 8%, compared
to just 39% in the traditional
meter group.
Dexcom's second study of its
next-generation G7 interoperable
CGM supports its efforts toward CE
mark submission and US pre-pivotal
work. Across approximately 360
sensor sections, 99% of readings
were clinically accurate and safe
for treatment decisions. The mean
absolute relative difference (MARD)
- the average absolute error
between all CGM values and matched
reference values - came in at 8.7%.
Dexcom touts its G7 wearable
CGM as 60% smaller than the G6 and
says it contains a smaller all-in-one
sensor applicator and transmitter
with a 30-minute warm-up time
before use. In addition, it possesses
interoperability with insulin delivery
devices and maintains accuracy,
as demonstrated in the study, the
company said.
Redesigned
Dexcom's Jake Leach said in a press
release, "Initial clinical data has
only strengthened our conviction
that Dexcom G7 will build upon
the high accuracy standard already
established by our G6 CGM system.
The G7 is a completely redesigned
CGM; our users will get a whole suite
of new features that we believe will
enhance the customer experience
that has become synonymous with
Dexcom."
Dexcom presented the studies
during the 14th International
Conference on Advanced
Technologies & Treatments for
Diabetes (ATTD). This comes as
people with diabetes in Canada on
intensive insulin therapy, age two
years or older, may now be eligible
for provincial coverage of the
Dexcom G6 CGM System through
British Columbia PharmaCare,
reports Businesswire.com.
British Columbia joins Yukon,
Quebec and Saskatchewan to offer
public coverage of CGM systems
under provincial health plans. The
announcement marks a significant
accomplishment in increasing access
to life-changing technology used
in the management of diabetes
and recognises the impact CGM
technology can have on those who
require intensive insulin therapy to
manage their Type 2 diabetes and
those living with Type 1 diabetes.
Laura Endres, Vice President
and General Manager of Dexcom
Canada commented, "As a British
Columbia-based company, we are
thrilled by today's announcement
and the province's commitment to
the diabetes community. We have
seen the impact of improved access
to CGM to truly change lives, and we
look forward to continuing our work
toward access for all those impacted
by diabetes across Canada."