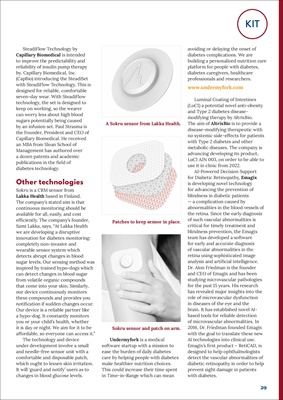 29
KIT
SteadiFlow Technology by
Capillary Biomedical is intended
to improve the predictability and
reliability of insulin pump therapy
by. Capillary Biomedical, Inc.
(CapBio) introducing the SteadiSet
with SteadiFlow Technology. This is
designed for reliable, comfortable
seven-day wear. With SteadiFlow
technology, the set is designed to
keep on working, so the wearer
can worry less about high blood
sugars potentially being caused
by an infusion set. Paul Strasma is
the Founder, President and CEO of
Capillary Biomedical. He received
an MBA from Sloan School of
Management has authored over
a dozen patents and academic
publications in the field of
diabetes technology.
Other technologies
Sokru is a CRM sensor from
Lakka Health based in Finland.
The company's stated aim is that
continuous monitoring should be
available for all, easily, and cost
efficiently. The company's founder,
Sami Lakka, says, "At Lakka Health
we are developing a disruptive
innovation for diabetes monitoring:
completely non-invasive and
wearable sensor system which
detects abrupt changes in blood
sugar levels. Our sensing method was
inspired by trained hypo-dogs which
can detect changes in blood sugar
from volatile organic compounds
that come into your skin. Similarly,
our device continuously monitors
these compounds and provides you
notification if sudden changes occur.
Our device is a reliable partner like
a hypo-dog. It constantly monitors
you or your child's health, whether
it is day or night. We aim for it to be
affordable, so everyone can access it."
The technology and device
under development involve a small
and needle-free sensor unit with a
comfortable and disposable patch,
which ought to lessen skin irritation.
It will 'guard and notify' users as to
changes in blood glucose levels.
avoiding or delaying the onset of
diabetes complications. We are
building a personalized nutrition care
platform for people with diabetes,
diabetes caregivers, healthcare
professionals and researchers.
Luminal Coating of Intestines
(LuCI) a potential novel anti-obesity
and Type 2 diabetes diseasemodifying
therapy by AltrixBio.
The aim of AltrixBio is to provide a
disease-modifying therapeutic with
no systemic side-effects for patients
with Type 2 diabetes and other
metabolic diseases. The company is
advancing developing its product,
LuCI AJN 003, on order to be able to
use it in clinic from 2022.
AI-Powered Decision Support
for Diabetic Retinopathy, Emagix
is developing novel technology
for advancing the prevention of
blindness in diabetic patients
- a complication caused by
abnormalities in the blood vessels of
the retina. Since the early diagnosis
of such vascular abnormalities is
critical for timely treatment and
blindness prevention, the Emagix
team has developed a software
for early and accurate diagnosis
of vascular abnormalities in the
retina using sophisticated image
analysis and artificial intelligence.
Dr. Alon Friedman is the founder
and CEO of Emagix and has been
studying microvascular pathologies
for the past 15 years. His research
has revealed major insights into the
role of microvascular dysfunction
in diseases of the eye and the
brain. It has established novel AIbased
tools for reliable detection
of microvascular abnormalities. In
2016, Dr. Friedman founded Emagix
with the goal to translate these new
AI technologies into clinical use.
Emagix's first product - RetiCAD, is
designed to help ophthalmologists
detect the vascular abnormalities of
diabetic retinopathy in order to help
prevent sight damage in patients
with diabetes.
A Sokru sensor from Lakka Health.
Patches to keep sensor in place.
Sokru sensor and patch on arm.
Undermyfork is a medical
software startup with a mission is
to ease the burden of daily diabetes
care by helping people with diabetes
make healthier nutrition choices.
This could increase their time spent
in Time-in-Range which can mean