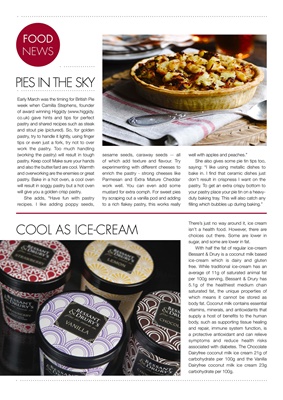 food
LIVING
NeWS
PieS iN THe Sky
early march was the timing for british Pie
week when camilla stephens, founder
of award winning higgidy (www.higgidy.
co.uk) gave hints and tips for perfect
pastry and shared recipes such as steak
and stout pie (pictured). so, for golden
pastry, try to handle it lightly, using finger
tips or even just a fork, try not to over
work the pastry. too much handling
(working the pastry) will result in tough sesame seeds, caraway seeds -- all well with apples and peaches."
pastry. keep cool! make sure your hands of which add texture and flavour. Try she also gives some pie tin tips too,
and also the butter/lard are cool. Warmth experimenting with different cheeses to saying: "i like using metallic dishes to
and overworking are the enemies or great enrich the pastry - strong cheeses like bake in. I find that ceramic dishes just
pastry. bake in a hot oven, a cool oven Parmesan and extra mature cheddar don't result in crispness i want on the
will result in soggy pastry but a hot oven work well. you can even add some pastry. to get an extra crispy bottom to
will give you a golden crisp pastry. mustard for extra oomph. for sweet pies your pastry place your pie tin on a heavy-
she adds, "have fun with pastry try scraping out a vanilla pod and adding duty baking tray. this will also catch any
recipes. i like adding poppy seeds, to a rich flakey pastry, this works really filling which bubbles up during baking."
there's just no way around it, ice cream
cool AS ice-creAm isn't a health food. however, there are
choices out there. some are lower in
sugar, and some are lower in fat.
With half the fat of regular ice-cream
bessant & Drury is a coconut milk based
ice-cream which is dairy and gluten
free. While traditional ice-cream has an
average of 11g of saturated animal fat
per 100g serving, bessant & Drury has
5.1g of the healthiest medium chain
saturated fat, the unique properties of
which means it cannot be stored as
body fat. coconut milk contains essential
vitamins, minerals, and antioxidants that
supply a host of benefits to the human
body, such as supporting tissue healing
and repair, immune system function, is
a protective antioxidant and can relieve
symptoms and reduce health risks
associated with diabetes. the chocolate
Dairyfree coconut milk ice cream 21g of
carbohydrate per 100g and the Vanilla
Dairyfree coconut milk ice cream 23g
carbohydrate per 100g.