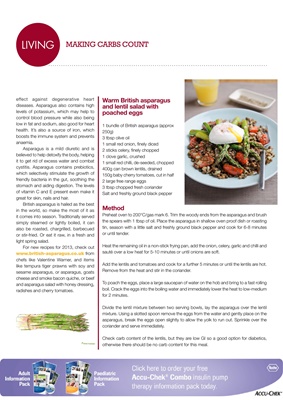 LIVING MaKiNg CarBs CouNt
effect against degenerative heart Warm British asparagus
diseases. asparagus also contains high and lentil salad with
levels of potassium, which may help to poached eggs
control blood pressure while also being
low in fat and sodium, also good for heart 1 bundle of british asparagus (approx
health. it's also a source of iron, which 250g)
boosts the immune system and prevents 3 tbsp olive oil
anaemia. 1 small red onion, finely diced
asparagus is a mild diuretic and is 2 sticks celery, finely chopped
believed to help detoxify the body, helping 1 clove garlic, crushed
it to get rid of excess water and combat 1 small red chilli, de-seeded, chopped
cystitis. asparagus contains prebiotics, 400g can brown lentils, drained
which selectively stimulate the growth of 150g baby cherry tomatoes, cut in half
friendly bacteria in the gut, soothing the 2 large free range eggs
stomach and aiding digestion. the levels 3 tbsp chopped fresh coriander
of vitamin c and e present even make it salt and freshly ground black pepper
great for skin, nails and hair.
british asparagus is hailed as the best
in the world, so make the most of it as Method
it comes into season. traditionally served Preheat oven to 200°c/gas mark 6. trim the woody ends from the asparagus and brush
simply steamed or lightly boiled, it can the spears with 1 tbsp of oil. Place the asparagus in shallow oven proof dish or roasting
also be roasted, chargrilled, barbecued tin, season with a little salt and freshly ground black pepper and cook for 6-8 minutes
or stir-fried. or eat it raw, in a fresh and or until tender.
light spring salad.
for new recipes for 2013, check out heat the remaining oil in a non-stick frying pan, add the onion, celery, garlic and chilli and
www.british-asparagus.co.uk from sauté over a low heat for 5-10 minutes or until onions are soft.
chefs like Valentine Warner, and items
like tempura tiger prawns with soy and add the lentils and tomatoes and cook for a further 5 minutes or until the lentils are hot.
sesame asparagus, or asparagus, goats remove from the heat and stir in the coriander.
cheese and smoke bacon quiche, or beef
and asparagus salad with honey dressing, to poach the eggs, place a large saucepan of water on the hob and bring to a fast rolling
radishes and cherry tomatoes. boil. crack the eggs into the boiling water and immediately lower the heat to low-medium
for 2 minutes.
Divide the lentil mixture between two serving bowls, lay the asparagus over the lentil
mixture. using a slotted spoon remove the eggs from the water and gently place on the
asparagus, break the eggs open slightly to allow the yolk to run out. sprinkle over the
coriander and serve immediately.
check carb content of the lentils, but they are low gi so a good option for diabetics,
otherwise there should be no carb content for this meal.