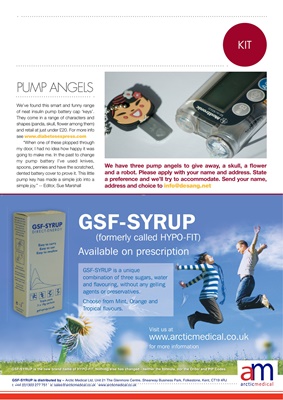 KIT
PumP ANgelS
We've found this smart and funny range
of neat insulin pump battery cap 'keys'.
they come in a range of characters and
shapes (panda, skull, flower among them)
and retail at just under £20. for more info
see www.diabetesexpress.com
"When one of these plopped through
my door, i had no idea how happy it was
going to make me. in the past to change
my pump battery i've used knives,
spoons, pennies and have the scratched, We have three pump angels to give away, a skull, a flower
dented battery cover to prove it. this little and a robot. Please apply with your name and address. State
pump key has made a simple job into a a preference and we'll try to accommodate. Send your name,
simple joy." -- editor, sue marshall address and choice to info@desang.net
GSF-SYRUP
(formerly called HYPO-FIT)
Available on prescription
GSF-SYRUP is a unique
combination of three sugars, water
and flavouring, without any gelling
agents or preservatives.
Choose from Mint, Orange and
Tropical flavours.
Visit us at
www.arcticmedical.co.uk
for more information
GSF-SYRUP is the new brand name of HYPO-FIT. Nothing else has changed - neither the formula, nor the Order and PIP Codes.
GSF-SYRUP is distributed by – Arctic Medical Ltd, Unit 21 The Glenmore Centre, Shearway Business Park, Folkestone, Kent, CT19 4RJ
t: +44 (0)1303 277 751 e: sales@arcticmedical.co.uk www.arcticmedical.co.uk