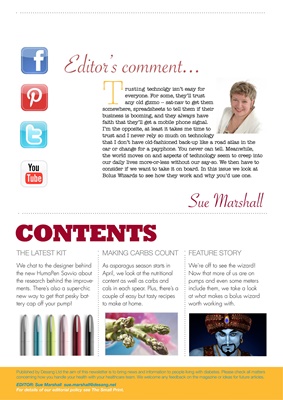 Editor's comment...
T rusting technolgy isn't easy for
everyone. For some, they'll trust
any old gizmo -- sat-nav to get them
somewhere, spreadsheets to tell them if their
business is booming, and they always have
faith that they'll get a mobile phone signal.
I'm the opposite, at least it takes me time to
trust and I never rely so much on technology
that I don't have old-fashioned back-up like a road atlas in the
car or change for a payphone. You never can tell. Meanwhile,
the world moves on and aspects of technology seem to creep into
our daily lives more-or-less without our say-so. We then have to
consider if we want to take it on board. In this issue we look at
Bolus Wizards to see how they work and why you'd use one.
Sue Marshall
contEnts
the Latest kit making carbs count feature story
We chat to the designer behind As asparagus season starts in We're off to see the wizard!
the new HumaPen Savvio about April, we look at the nutritional Now that more of us are on
the research behind the improve- content as well as carbs and pumps and even some meters
ments. There's also a super-chic cals in each spear. Plus, there's a include them, we take a look
new way to get that pesky bat- couple of easy but tasty recipes at what makes a bolus wizard
tery cap off your pump! to make at home. worth working with.
Published by Desang Ltd the aim of this newsletter is to bring news and information to people living with diabetes. Please check all matters
concerning how you handle your health with your healthcare team. We welcome any feedback on the magazine or ideas for future articles.
Editor: Sue Marshall sue.marshall@desang.net
For details of our editorial policy see the Small Print.