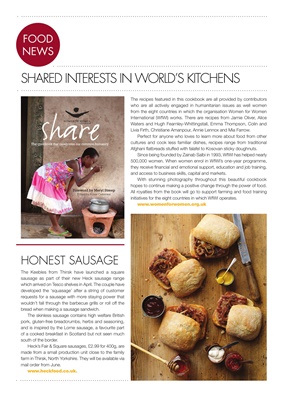 food
LIVING
NEWS
SHARED iNTERESTS iN WORlD'S kiTcHENS
the recipes featured in this cookbook are all provided by contributors
who are all actively engaged in humanitarian issues as well women
from the eight countries in which the organisation Women for Women
international (WfWi) works. there are recipes from Jamie oliver, alice
Waters and Hugh fearnley-Whittingstall, emma thompson, colin and
Livia firth, christiane amanpour, annie Lennox and mia farrow.
Perfect for anyone who loves to learn more about food from other
cultures and cook less familiar dishes, recipes range from traditional
Afghani flatbreads stuffed with falafel to Kosovan sticky doughnuts.
since being founded by Zainab salbi in 1993, WfWi has helped nearly
500,000 women. When women enrol in WfWi's one-year programme,
they receive financial and emotional support, education and job training,
and access to business skills, capital and markets.
With stunning photography throughout this beautiful cookbook
hopes to continue making a positive change through the power of food.
all royalties from the book will go to support farming and food training
initiatives for the eight countries in which WfWi operates.
www.womenforwomen.org.uk
HONEST SAuSAgE
the keebles from thirsk have launched a square
sausage as part of their new Heck sausage range
which arrived on tesco shelves in april. the couple have
developed the 'squasage' after a string of customer
requests for a sausage with more staying power that
wouldn't fall through the barbecue grills or roll off the
bread when making a sausage sandwich.
the skinless sausage contains high welfare british
pork, gluten-free breadcrumbs, herbs and seasoning,
and is inspired by the Lorne sausage, a favourite part
of a cooked breakfast in scotland but not seen much
south of the border.
Heck's fair & square sausages, £2.99 for 400g, are
made from a small production unit close to the family
farm in thirsk, north Yorkshire. they will be available via
mail order from June.
www.heckfood.co.uk.