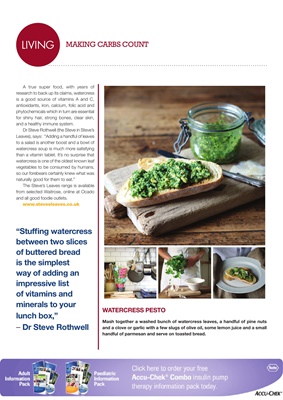 LIVING MaKInG carBS coUnt
a true super food, with years of
research to back up its claims, watercress
is a good source of vitamins a and c,
antioxidants, iron, calcium, folic acid and
phytochemicals which in turn are essential
for shiny hair, strong bones, clear skin,
and a healthy immune system.
Dr steve rothwell (the steve in steve's
Leaves), says: "adding a handful of leaves
to a salad is another boost and a bowl of
watercress soup is much more satisfying
than a vitamin tablet. it's no surprise that
watercress is one of the oldest known leaf
vegetables to be consumed by humans,
so our forebears certainly knew what was
naturally good for them to eat."
the steve's Leaves range is available
from selected Waitrose, online at ocado
and all good foodie outlets.
www.stevesleaves.co.uk
"Stuffing watercress
between two slices
of buttered bread
is the simplest
way of adding an
impressive list
of vitamins and
minerals to your
WATERCRESS PESTO
lunch box,"
Mash together a washed bunch of watercress leaves, a handful of pine nuts
– Dr Steve Rothwell and a clove or garlic with a few slugs of olive oil, some lemon juice and a small
handful of parmesan and serve on toasted bread.