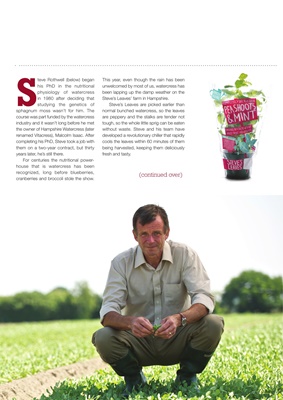 s
teve rothwell (below) began this year, even though the rain has been
his PhD in the nutritional unwelcomed by most of us, watercress has
physiology of watercress been lapping up the damp weather on the
in 1980 after deciding that steve's Leaves' farm in Hampshire.
studying the genetics of steve's Leaves are picked earlier than
sphagnum moss wasn't for him. the normal bunched watercress, so the leaves
course was part funded by the watercress are peppery and the stalks are tender not
industry and it wasn't long before he met tough, so the whole little sprig can be eaten
the owner of Hampshire Watercress (later without waste. steve and his team have
renamed Vitacress), malcolm isaac. after developed a revolutionary chiller that rapidly
completing his PhD, steve took a job with cools the leaves within 60 minutes of them
them on a two-year contract, but thirty being harvested, keeping them deliciously
years later, he's still there. fresh and tasty.
for centuries the nutritional power-
house that is watercress has been
recognized, long before blueberries,
(continued over)
cranberries and broccoli stole the show.